Recognizing Hockey's Volunteers
Hockey Alberta is pleased to join organizations across Alberta and Canada in celebrating National Volunteer Week, which runs annually the 3rd week in April.
Hockey in Alberta relies on thousands of volunteers who freely give tens of thousands of hours of their time each year. Those volunteer roles include, but certainly aren't limited to, serving as:
Executive members, directors, coaches, trainers, managers and many other positions within our Minor Hockey Associations, leagues and club teams, ensuring that the more than 3000 teams in the province can play, practice, and travel throughout the season;
Chairs, members or delegates on Hockey Alberta's operational committees, making key decisions to ensure the smooth operation on a day-to-day basis; and
Coaches, trainers, directors of operations and mentors within Hockey Alberta's Team Alberta high performance programming.
Over the course of National Volunteer Week, Hockey Alberta is proud to present the names and faces of a handful of Alberta's hockey volunteers, without whom our sport does not operate, and our players do not get the opportunity to experience our great game.
We encourage you to take a few moments to recognize and thank those key volunteers with your MHA or team not just during National Volunteer Week, but year round.
If you know of a volunteer deserving of recognition, you can visit our Hockey Alberta Awards page, the Hockey For Life Campaign or send us an email - [email protected]
Lisa Davies - St. Paul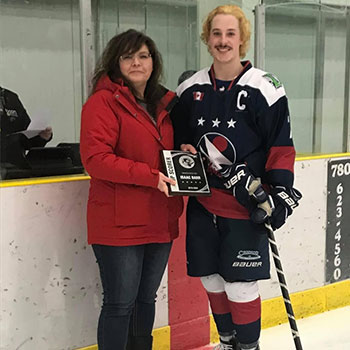 Lisa Davies has done it all as a volunteer over the past 22 years.
Whether it's being a billet mom, volunteering at the Canada Winter Games or at a provincial championship – both around St. Paul and with Hockey Alberta – Lisa is well-known around the community and the region.
At the provincial level with Hockey Alberta, Lisa serves as the Minor Administration committee member for the Northeast Region. In that role, she assists minor hockey associations with registration processes, completes team and player approvals, and player transfers in HCR.
She also has been involved with junior hockey. Previously, she served as president of the St. Paul Canadiens Junior B team for eight seasons, and now she is the vice president in charge of discipline the North Eastern Alberta Junior B Hockey League (NEAJBHL).
Lisa said the sense of community she gains, and shares through volunteering is what keeps her going.
"You get to meet new people, you get to network, and you get to learn new skills," she said. "It makes me happy."
Although she couldn't pin down just one, she said her favourite memories come from events like the Canada Winter Games, World Junior A Challenge, and Hockey Alberta Provincial Championships.
"You know they're all having fun, they're excited to be there, and they have reached their goal," she said. "So it always fun to see those happy faces."
Lisa also volunteers outside of hockey, helping out with minor baseball, Skate Alberta and a variety of school programs.
It is the lifelong connection to the players in the game that keeps Lisa involved.
"I was a billet mom for five years. They still call me mom, they still call if they need anything," Lisa said.
Tom West - Grande Prairie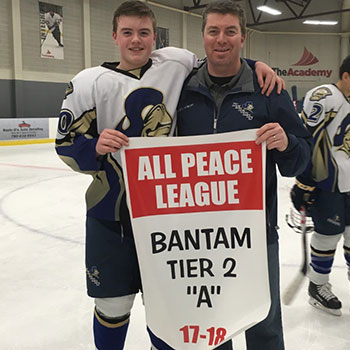 A dedicated volunteer, Tom West has served the community of Grande Prairie for more than a decade.
Tom began coaching in Fort St. John in 1999, but, after three years, went on hiatus once he and his wife started a family.
He re-joined the coaching world in 2010 in Grande Prairie at just about every level, and also served as the Manager for the Midget U16 AAA team.
Tom has been on the Board of Directors for Grande Prairie Minor Hockey since 2015, and, on top of his coaching and board positions, Tom also gets some extra ice time in as an official.
He began officiating in 2014, and since then, has worked every level of hockey up to Junior A/B, and Senior in the Grande Prairie area.
Tom said no matter what role he is serving, he makes sure to bring a positive attitude, and dedicate as much of his time and possible to the organization.
"Whether it's a development team where kids are just learning to skate, or a AA or AAA team that is well on their way, to have the right attitude and kind of re-focus and bring it down to their level whatever age or whatever level that is, and work with them," he said.
For Tom, volunteering is his favourite way to give back to the community.
"I know a lot of people say that, but for me, I enjoy seeing the operation and opportunity to guide and grow," he said. "Whether it's someone my own age or in hockey, usually someone younger, watching them grow and develop as a person and a player and expand their knowledge and improve their skill set."
Michelle Skilnick and Janet & Steve Fleming - Red Deer
Whether they're giving their time to international events, national championships, or minor hockey, volunteering isn't just what Michelle Skilnick and her parents, Steve and Janet Fleiming, do. It's who they are.
Tom O'Toole - Okotoks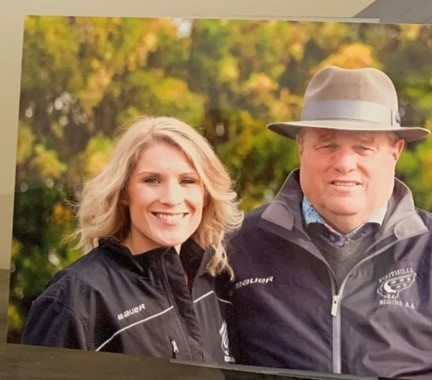 As a former professional hockey player, Tom O'Toole knows the importance of giving back to the game, and has been doing just that for over 40 years.
Once his pro career ended, Tom wanted to stay connected to the game, and to give back and share his knowledge about the game.
"One of the (reasons) was to help kids understand the game," he said. "And to me, it wasn't about the game in itself, I just wanted to share some of my ideas, and I had a lot of people help me along the way so I figured I owed that to the kids to teach (them)."
Tom's coaching career began by running goalie clinics in Okotoks on a volunteer basis. He also has served as an Assistant Coach at the Midget AA and AAA, and Bantam AA and AAA levels throughout Southern Alberta, along with Peewee and Bantam teams on the female side. He currently serves as the goalie coach for the U16 AAA team in Okotoks.
The passion for volunteering throughout the hockey community is common in the O'Toole family; two of Tom's daughters have a key roles in Minor Hockey in Alberta, one is a coach and the other is a physical trainer.
"If anyone is looking to do it, any aspiration… if you want to coach try to coach, it's really rewarding," Tom said.
Chris Williams - Okotoks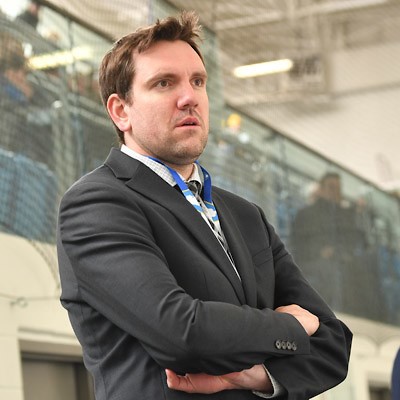 Chris Williams has volunteered with Okotoks Minor Hockey Association as a coach for nearly a decade.
His coaching career began in 2004 as an assistant coach with the Timbits program. Chris then took a 10-year hiatus to establish his career and family, but his passion for the game brought him back to coaching in 2014.
Chris believes in giving back to the community.
"I'm a huge believer that young kids need guidance, not just from parents or teachers, but they need it from coaches and other mentors," he said. "It's kind of an honour to be one of those people who get to jump in."
Between 2014 and 2018, Chris served as the Head Coach of the Midget AA team in Okotoks, as an assistant coach for the Midget AAA team in 2019, and currently serves as the Head Coach of the U16 AAA team.
Chris is also a high school teacher in Okotoks, and said while there are many similarities between coaching and teaching, they are definitely not the same.
"There's Coach Chris at the rink and there is Mr. Williams at school. I have to act professionally in both settings but there's a difference," he said. "You're a bit looser at the rink, you can be a bit more buddy-buddy, but while you're at school, you're a professional. It's what you do, but it really helps you see the different sides of the kids."
Brenda Dyck - St. Albert
A volunteer with Hockey Alberta's Team Alberta programs for over a decade, Brenda Dyck's number one goal is, and has always been to help bring out the best in every single athlete she comes across.