Minor Hockey Association of the Year Award
One award presented annually to recognize a Minor Hockey Association (MHA) judged to have made a significant impact on the game through their day to day operations. The MHA will have participated as a member in Hockey Alberta meetings, operated over and above the minimum guidelines and standards set out by Hockey Alberta, provided hockey options dedicated to growing the game locally, and made an outstanding contribution to its community.
Lethbridge Minor Hockey Association
Lethbridge Minor Hockey has been a leader in its attempts to grow the game in Alberta, especially with their Female program. Lethbridge has shown growth at all levels of Female hockey, with the increased registration numbers coming from a combination of player development and retention.
A prime example of Lethbridge's commitment to growing the game came in January 2020 and hosting Female Hockey Day. The event on-ice and off-ice activities for players, coaches and officials, and finished off with a USPORT match-up between the Mount Royal Cougars and the University of Lethbridge Pronghorns.
Lethbridge also volunteered at the last minute to host a Provincial event because we had a vacancy at the female level.
Lacombe Minor Hockey Association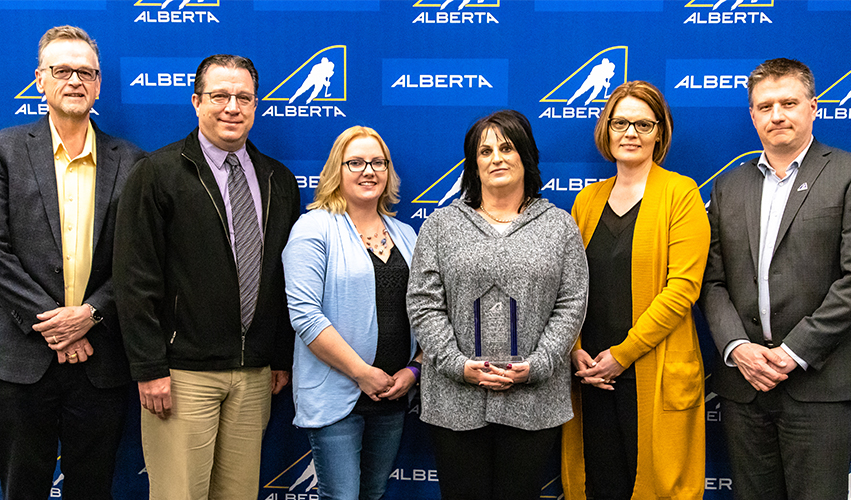 In the 2018-19 season, Lacombe Minor Hockey Association undertook a number of training opportunities to help in the growth and development of their players and coaches. As an association, Lacombe was very engaged and accessed Hockey Alberta's Central Regional Centre numerous times.
Activities included: hosting coach and NCCP clinics, hosting six professional development coach clinics, utilizing Hockey Alberta's Central Regional Centre for a checking session with Lacombe players, and accessing a number of Power Edge Pro training sessions through the Hockey Alberta/PEP partnership.
2017 - Marwayne, Dewberry and Kitscoty Minor Hockey Associations

2016 - Hockey Calgary

2015 - Killam MHA

2014 - Stettler MHA

2013 - Slave Lake MHA

2012 - Smoky River MHA

2011 - Glendon MHA

2010 - Cold Lake MHA

2009 - Fort McMurray MHA

2008 - Fort Saskatchewan MHA

2007 - Knights of Columbus

2006 - Manning MHA

2005 - Siksika MHA

2004 - Lethbridge MHA

2003 - Rimbey MHA