Official of the Year
One award presented annually to an official who has made an outstanding contribution to amateur hockey during the current season. The recipient will have obtained all necessary certifications, is looked upon as a "leading" official within his/her community and is dedicated to the development of officiating by assisting with supervision, mentoring and/or training of younger and lower level officials.
Official of the Year: Taylor Burzminski
Taylor Burzminski obtained his National High Performance Level in October. After working the gold medal final of the Hlinka Gretzky cup in August, he was assigned to the World Junior A Challenge in December. His composure on the ice has earned him appearances in this season's Alberta Junior Hockey League and Western Hockey League playoffs. Taylor dedicates his time to giving back to the provincial program as the Development Coordinator in the North Region.
Brayden Arcand (Edmonton)
Brayden is a National High-Performance Referee who worked the final series of the Alberta Junior Hockey League. He also represented Alberta at the Centennial Cup, officiating the championship game.
Fraser Lawrence (Edmonton)
Fraser Lawrence is a Level 6 official from Edmonton who represented Canada internationally last season at the IIHF World Junior Hockey Championships in the Czech Republic.
At the World Juniors, Fraser worked six games, and capped an exciting week by working quarter-final and semi-final games, and then the bronze medal game between Sweden and Finland.
Fraser started officiating in Northwest Edmonton in 2001, working his way up through the ranks to achieve his Level 6 certification in 2013. On the ice, Fraser has represented Canada at international tournaments, including events in Mexico and Iceland. He has also worked in the Western Hockey League for nine seasons, where he was assigned to work the league final series in 2019 between Prince Albert and Vancouver.
Off the ice, Fraser has been involved provincially and regionally as an Instructor and Supervisor at Hockey Alberta's Officials Development Camp and supervising the Alberta Cup.
About Fraser Lawrence:
"This was by far the best experience of my officiating career to date. Getting the call to go to a tournament all Canadians grow up watching at Christmas time was a dream come true…. I got to meet 19 other officials from across the world, and it's safe to say I have 19 new friends from the officiating community."
Fraser Lawrence
Lacey Senuk (St. Albert)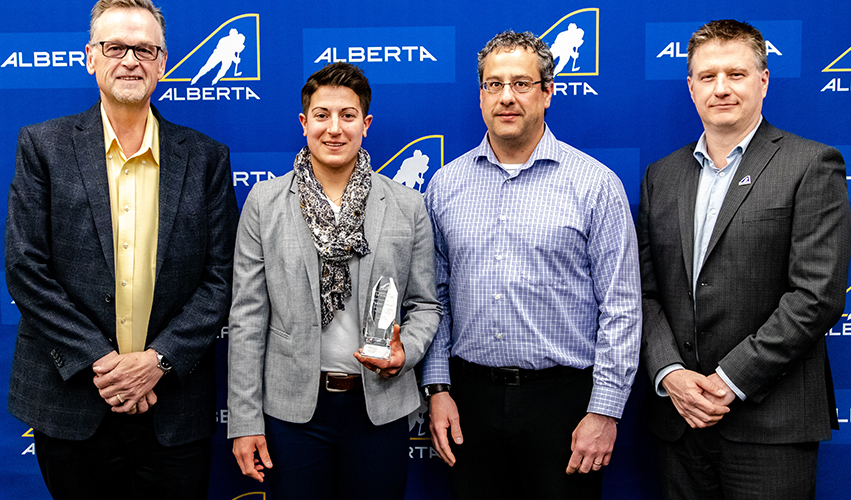 The Official of the Year for 2019 has excelled at the highest levels nationally and internationally, but also serves as an important resource at the regional level as a mentor and instructor for aspiring officials in the Edmonton area.
Lacey Senuk is a level 5 referee in the north region who has worked many prestigious international hockey events. In 2017-18 season, Lacey earned an IIHF U18 assignment in Russia. And this year, she followed up by refereeing the 4-Nations Cup old medal game. She also refereed the gold medal game from the world women's championship in Espoo, Finland in 2019.
At the regional level, Lacey does supervisions and mentor skates with younger officials in St. Albert. A mentor skate involves working the lines when an official is doing their first bantam aa game as a linesman, the goal is to help the young official through the transition to this higher hockey.
But Lacey's biggest contribution in St. Albert is during referee advanced technical training monthly skates. Officials have 90 minutes of ice every month and lacey organizes and leads the drills for 35 to 40 officials. Lacey uses the drills designed for someone who skates at her level, which helps elevate the skills showed by young officials in their games. Lacey will work one on one with anyone who asks her to help improve their game.
In addition to the hockey that Lacey skates for in the elite programs around the north region and across the province, she regularly skates games in both our Raider Elite Hockey and our federation games. Sharing her knowledge with those she skates with and boosting our program.
---