Recreational Hockey Model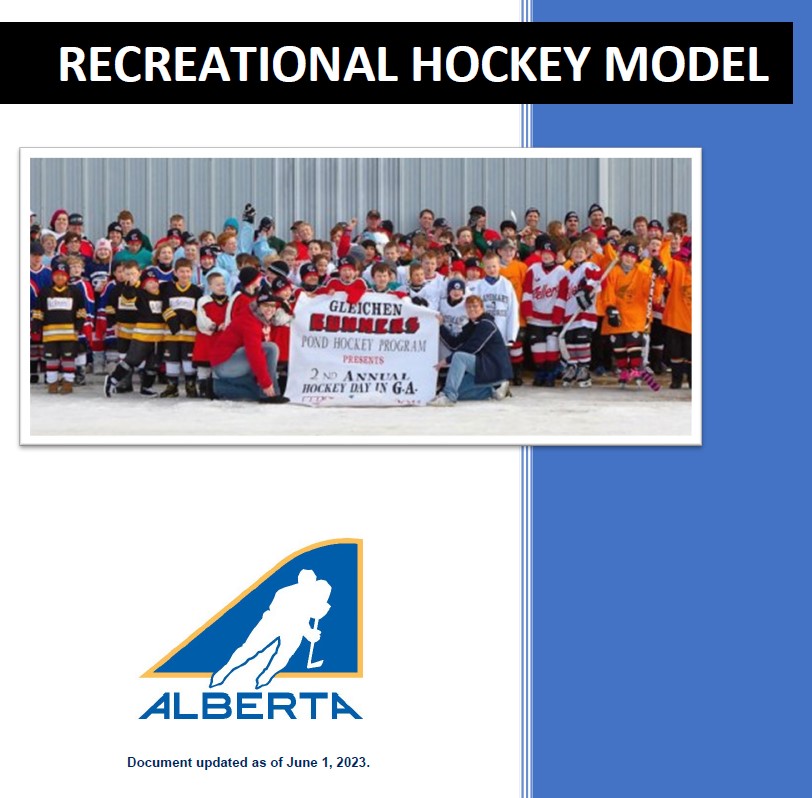 In the 2021-22 season, Hockey Alberta implemented a new Recreational Hockey Model that provides interested participants with a moderately structured stream of hockey with some modified playing rules, limited registration rules, and no residency requirements.
Changes have been made to the Recreational Hockey Model for 2023-24 to better assist Program Operators in choosing the correct stream that matches the desired level of commitment and competitiveness for which their participants are looking. Furthermore, by aligning the streams outlined in the Recreational Hockey Model, program participants will have a better understanding of what to expect from the program in which they participate.
The updates made to the Recreational Hockey Model include:
Clearer breakdown and outline of the age groups, time commitment, structure, and game play for the different streams (Learn to Play, Pond Hockey & Rec Hockey).
Added information and links on the benefits of program sanctioning with Hockey Alberta including insurance, funding and fundraising support and discipline processes.
Coaching Requirements and Recommendations.
The Recreational Hockey Model provides general structural and administrative guidelines for Recreational Hockey Programs across the province and outlines the activity options that member Minor Hockey Associations and partner organizations can implement within their communities
The goal of the Recreational Hockey Model is to ensure families have access to affordable, fun, and safe opportunities to participate in youth hockey with a low to moderate time commitment. The Recreational Hockey Model is open to both Minor Hockey Associations and community/ non-minor hockey programs.
The Recreational Hockey Model includes three streams of hockey. Each stream has a varying competitive structure and level of commitment appropriate to the level(s) and age(s) of the player(s).
Within the Recreational Hockey Model are several recommendations on how organizations/ programs should operate and structure their program; however, organizations/ programs are provided the flexibility to create and maintain their own internal processes to adjust their program to the needs of their participants.

RECREATIONAL HOCKEY MODEL RECREATIONAL HOCKEY Q & A PROGRAMS REC HOCKEY OFFICIAL RATES
---
NOTES PERTAINING TO THIS FORM:
Required Fields: All fields noted with an asterisk (*) must be completed.
Forward Submission: To forward a copy of the form to recipients not included on the form (i.e. Host MHA/Club Team), enter the email address(es) in the "Forward Submission" section. Separate each email address by a comma (no spaces required between addresses).
Save for Later: Once the form has been started, the form can be saved and completed at a later time by clicking "SAVE FOR LATER." If using this option, you must save the provided URL and Access Passcode to access the secure webpage and complete the form submission.
Submit: When you click "SUBMIT," the recipients entered in the form will receive notice of the form submission by email, with a PDF copy of the form provided as an attachment.