2016 Arctic Winter Games
The 2016 Arctic Winter Games ran March 6-11 in Nuuk, Greenland, with the hockey portion of the event played in Iqaluit, Nunavut. Team Alberta North put forth a very impressive showing, with the male squad earning a gold medal, and the females landing silver.
After finishing round-robin play in second place with a 3-1 record, the male squad drew Team Alaska in the semi-finals, who had a matching 3-1 record.
Team Alberta North edged Alaska 3-2 in the early-morning tilt, and moved on to face NWT in the gold medal final.
Despite a furious comeback by NWT, Alberta North managed to weather the storm and hold on for the 5-4 win, sealing the gold medal.
On the female side, Team Alberta North found themselves in a similar matchup against Team Alaska in the semi-finals, and came out on the winning side of a 2-1 score.
In keeping with the trend, it was a Team Alberta North and NWT gold medal final once again, but this time it was NWT who came away with gold after a 5-1 win.

Bantam Male Roster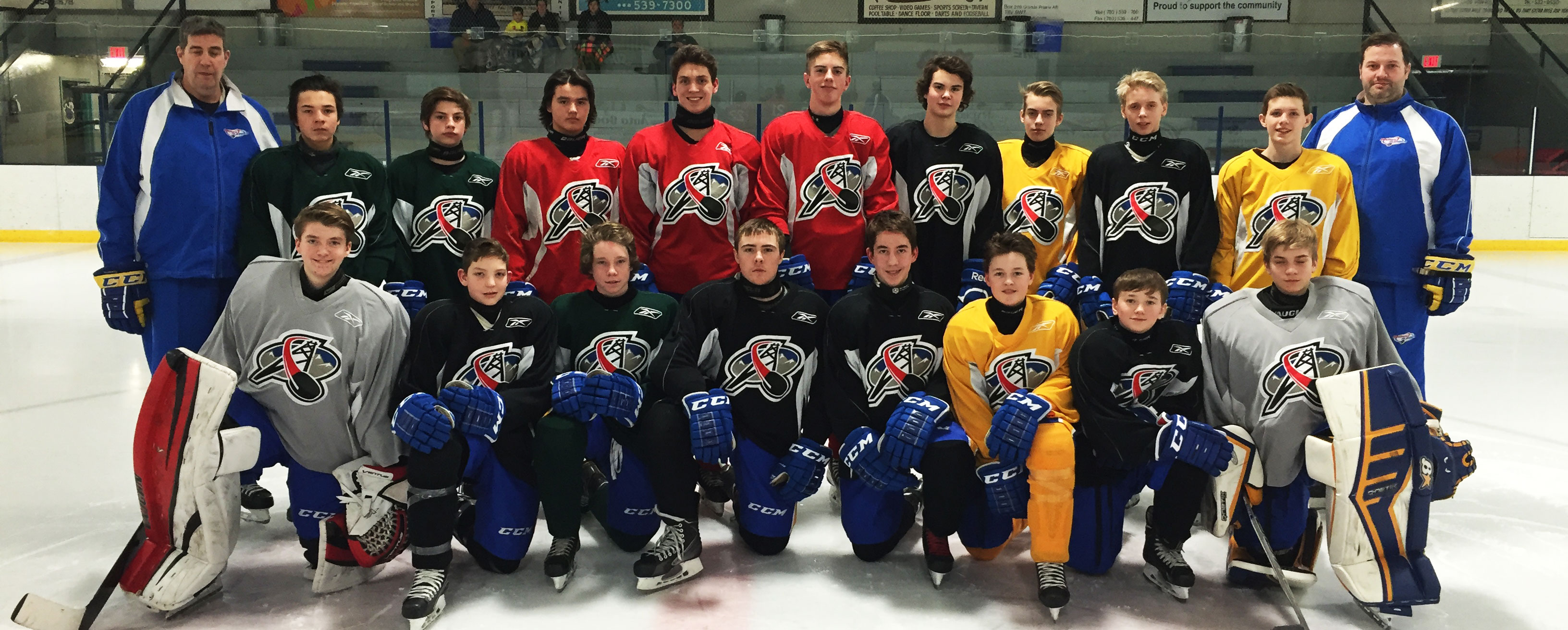 | # | POSITION | FIRST NAME | LAST NAME | HOMETOWN |
| --- | --- | --- | --- | --- |
| 1 | G | CAMERON | BESON | COUNTY OF GP #1 |
| 31 | G | LEE | LAPPENBUSH | BEAVERLODGE |
| 2 | D | LIAM | BAILEY | SLAVE LAKE |
| 3 | D | CHASE | COOK | FORT MCMURRAY |
| 4 | D | MASON | DLUGOSZ | HIGH PRAIRIE |
| 5 | D | JOSH | JUCKES | HIGH LEVEL |
| 6 | D | AARON | KUHN | SLAVE LAKE |
| 7 | D | SHAUN | PETERS | LA CRETE |
| 8 | F | CARSEN | BORLE | HIGH LEVEL |
| 9 | F | CONNOR | HORNE | FORT MCMURRAY |
| 10 | F | NICHOLAS | KEYS | FORT MCMURRAY |
| 11 | F | MASON | KUNKA | GRANDE PRAIRIE |
| 12 | F | KEATON | MERCREDI | SLAVE LAKE |
| 14 | F | CODY | QUINTON | WEMBLEY |
| 15 | F | MATTHEW | RATHBONE | WABASCA |
| 16 | F | COLTON | SHAW | WABASCA |
| 17 | F | MASON | SMITH | GRANDE PRAIRIE |
| POSITION | FIRST NAME | LAST NAME | HOMETOWN |
| --- | --- | --- | --- |
| DIRECTOR OF OPS. | BLAKE | COSGROVE | GRANDE PRAIRIE |
| COACH MENTOR | FRAN | GOW | EDMONTON |
| HEAD COACH | MIKE | CARLSEN | FORT MCMURRAY |
| ASSISTANT COACH | SIMON | JUCKES | HIGH LEVEL |
Male Results
| MONDAY, MARCH 7 | TEAM ALBERTA NORTH - 10 | NUNAVUT - 3 |
| --- | --- | --- |
| TUESDAY, MARCH 8 | TEAM ALBERTA NORTH - 11 | YUKON 0 |
| WEDNESDAY, MARCH 9 | TEAM ALBERTA NORTH - 0 | NWT - 5 |
| WEDNESDAY, MARCH 9 | TEAM ALBERTA NORTH - 5 | ALASKA - 2 |
| THURSDAY, MARCH 10 (SEMI-FINAL) | TEAM ALBERTA NORTH - 3 | ALASKA - 2 |
| THURSDAY, MARCH 10 (GOLD MEDAL) | TEAM ALBERTA NORTH - 5 | NWT - 4 |

Junior Female Roster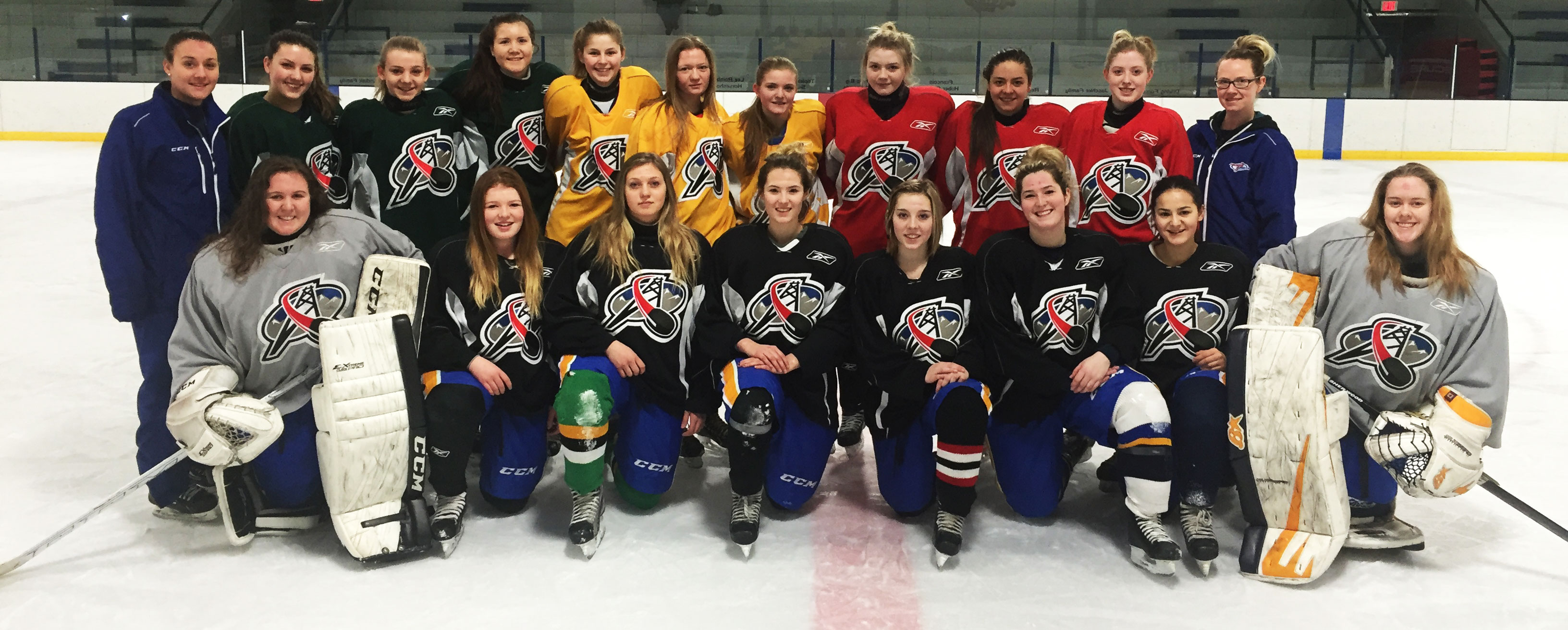 | # | POSITION | FIRST NAME | LAST NAME | HOMETOWN |
| --- | --- | --- | --- | --- |
| 1 | G | MERCEDEZ | BATKE | SEXSMITH |
| 31 | G | KAELYN | GUNDERSON | GRANDE PRAIRIE |
| 2 | D | JENNA | COLLINS | BEAVERLODGE |
| 3 | D | QUINN | COTE | FALHER |
| 4 | D | MADISON | DIRK | FORT MCMURRAY |
| 5 | D | GEORGIA | PARADIS | FORT MCMURRAY |
| 6 | D | CHAYA | PAUL | GRIMSHAW |
| 7 | D | SIERRA | TURK | WABASCA |
| 8 | F | HAILEY | AUSTIN | RAINBOW LAKE |
| 9 | F | BRITTNEY | COMMET | GRANDE PRAIRIE |
| 10 | F | KIERRA | GAUCHIER | HIGH PRAIRIE |
| 11 | F | LYNDSEY | JANES | FORT MCMURRAY |
| 12 | F | BRIA | MENARD | GRANDE PRAIRIE |
| 14 | F | EMILY | PAWLUSKI | HOTCHKISS |
| 15 | F | TORY | TEWS | BEAVERLODGE |
| 16 | F | SKYLER | WILTSIE | FORT MCMURRAY |
| 17 | F | KATEY | ZELMAN | HIGH PRAIRIE |
| POSITION | FIRST NAME | LAST NAME | HOMETOWN |
| --- | --- | --- | --- |
| DIRECTOR OF OPS. | BLAKE | COSGROVE | GRANDE PRAIRIE |
| COACH MENTOR | FRAN | GOW | EDMONTON |
| HEAD COACH | ALYSSA | HENNIGAR | FORT MCMURRAY |
| ASSISTANT COACH | STACIE | SACK | GRANDE PRAIRIE |
CLICK HERE to download a PDF of the 2016 Junior Female Roster
Female Results
| MONDAY, MARCH 7 | TEAM ALBERTA NORTH - 2 | NWT - 4 |
| --- | --- | --- |
| TUESDAY, MARCH 8 | TEAM ALBERTA NORTH - 3 | ALASKA - 2 |
| WEDNESDAY, MARCH 9 | TEAM ALBERTA NORTH - 3 | YUKON - 1 |
| WEDNESDAY, MARCH 9 | TEAM ALBERTA NORTH - 11 | NUNAVUT - 0 |
| THURSDAY, MARCH 10 (SEMI-FINAL) | TEAM ALBERTA NORTH -1 | ALASKA - 0 |
| THURSDAY, MARCH 10 (GOLD MEDAL) | TEAM ALBERTA NORTH - 1 | NWT - 5 |