Spring Showcase
EVENTS WILL BE HELD AT THE GARY W. HARRIS CANADA GAMES CENTER IN RED DEER.
APRIL 27 - MAY 1
MAY 4 - 8
MAY 11 - 15
Volunteers
Hockey Alberta is now accepting volunteer applications for the 2022 Spring Showcase for various roles, including: Off-ice Officials, Ticket Scanners, Ceremonies and Special Events, Livestreaming and Generalist.
Those interested in applying may indicate which event they would like to volunteer at, as well as preferred shifts.
---
Facility
The Spring Showcase will be held at the Gary W. Harris Canada Games Centre at Red Deer Polytechnic. A concession will be available
---
Photographer
LA Media will be on site to capture the action. Pictures will be available for purchase.
---
Live Streaming
All games will be live streamed on HockeyTV.
Spring Showcase partner opportunities are available. For more information, see the package below or contact Danielle Kraichy, [email protected].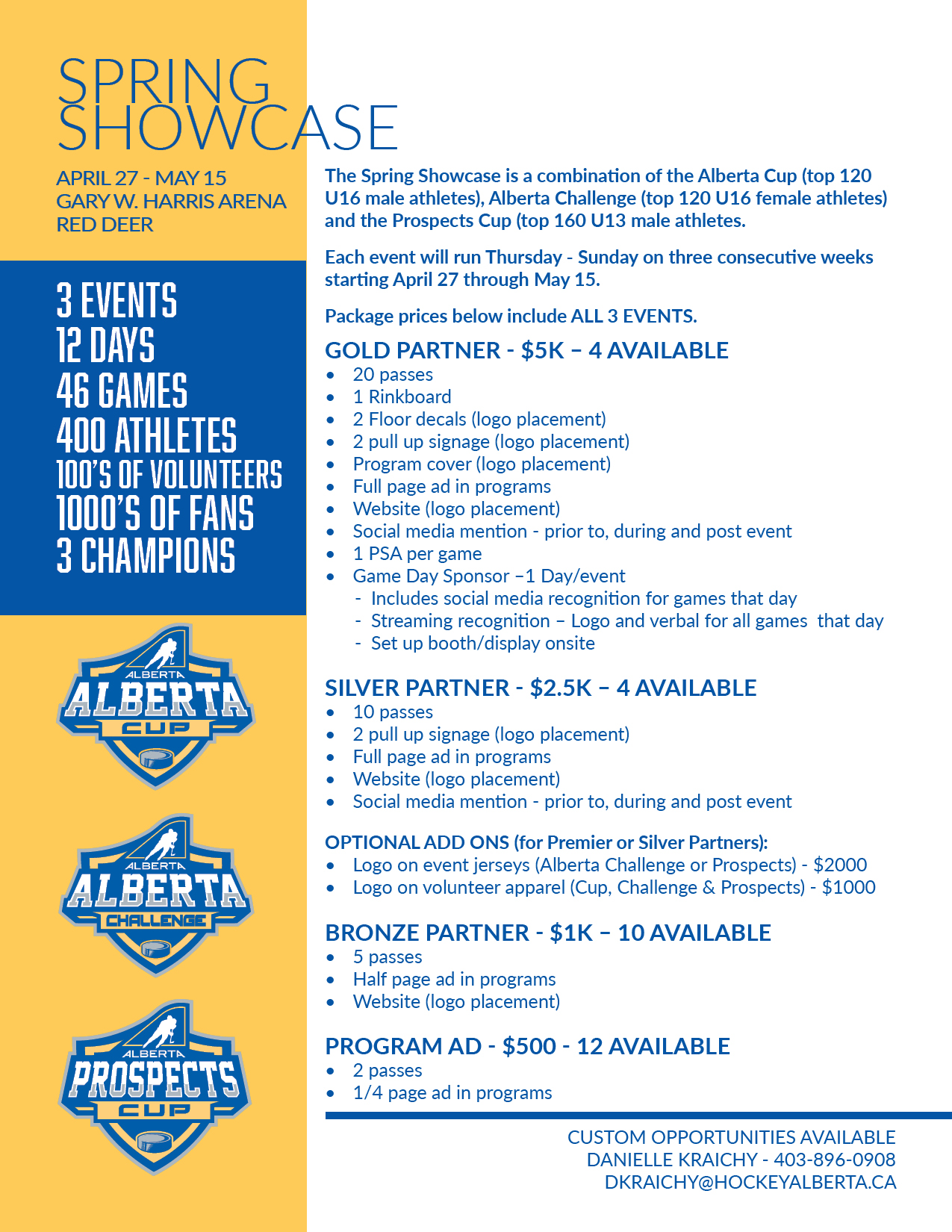 TICKET & PACKAGES BY EVENT*

EVENT PASS - AGES 10 & UP - $40

DAY PASS - AGES 10 & UP - $10

9 & UNDER - FREE

*Ticket purchases are non-refundable. GST applicable, not included in listed price. TIckets and passes can be purchased online or at the Box Office on site.
Please book using appropriate links below. Room types and rates are subject to availability. All rates listed below are prior to applicable taxes.

BEST WESTERN

Complimentary Hot Breakfast
Complimentary High Speed Internet
Indoor Pool, Hot Tub and Fitness Room
24 Hour Business Centre
Complimentary Parking with Security Cameras

HOLIDAY INN GASOLINE ALLEY

Boulevard Restaurant and Lounge
Indoor pool with water slide and hot tub
24-hour fitness centre
All rooms include a mini fridge, Keurig & microwave
Complimentary internet

CAMBRIDGE INN & SUITES
RATE: $110.00 - $140.00
RATE: $124.99

RATE: $109.00 & 124.99

BOOK ONLINE HERE

BOOK ONLINE HERE

Or call: 403-348-8485

BOOK ONLINE HERE

Or call: 1-800-662-7197 CODE: Alberta Cup

BEST WESTERN

Complimentary Hot Breakfast
Complimentary High Speed Internet Access
Indoor Pool, Hot Tub and Fitness Room
24 Hour Business Centre
Complimentary Parking with Security Cameras
Guest Coin Operated Laundry

HOLIDAY INN GASOLINE ALLEY

Boulevard Restaurant and Lounge
Indoor pool with water slide and hot tub
24-hour fitness center
All rooms include a mini fridge, Keurig & microwave
Complimentary internet

MICROTEL

Complimentary daily breakfast bags-to-go from 6 a.m. - 10 a.m.
Complimentary in-room wi-fi
In-room tea/coffee maker
24-hour access to the fitness centre
Pool, waterslide and whirlpool
Complimentary parking night of stay

RATE: $110.00 - $140.00
RATE: $129.99 + Tax
RATE: Standard two queens - $99.00
BOOK ONLINE HERE

BOOK ONLINE HERE

Or call: 403-348-8485

CALL TO BOOK: 403-967-0327

BEST WESTERN

Complimentary Hot Breakfast
Complimentary High Speed Internet Access
Indoor Pool, Hot Tub and Fitness Room
24-hour Business Centre
Complimentary Parking with Security Cameras
Guest Coin Operated Laundry

HOLIDAY INN GASOLINE ALLEY

Boulevard Restaurant and Lounge
Indoor pool with water slide and hot tub
24-hour fitness center
All rooms include a mini fridge, Keurig & microwave
Complimentary internet

TOWNEPLACE SUITES BY MARRIOTT

Complimentary breakfast
Complimentary internet
24-hour lobby coffee/tea station
Complimentary use of indoor pool & whirlpool
24-hour Fitness Center

RATE: $110.00 - $140.00
RATE: $124.99 + Tax
BOOK ONLINE HERE

BOOK ONLINE HERE

Or call: 403-348-8485

BOOK: 403-341-3589 with code PROSPECTS CUP
| | | |
| --- | --- | --- |
| | | |
| The first deadline to order apparel is Sunday, April 10. Given no shipping or backorder issues, you can anticipate your order will be ready for pickup, on location, April 26th and 27th. Any orders placed after the first deadline, will not be delivered to the event, and shipping charges will apply after the April 10th deadline. | The first deadline to order apparel is Sunday, April 17. Given no shipping or backorder issues, you can anticipate your order will be ready for pickup, on location, May 5th and 6th. Any orders placed after the first deadline, will not be delivered to the event, and shipping charges will apply after the April 17th deadline. | The first deadline to order apparel is Sunday, April 24. Given no shipping or backorder issues, you can anticipate your order will be ready for pickup, on location, May 12th and 13th. Any orders placed after the first deadline, will not be delivered to the event, and shipping charges will apply after the April 24th deadline. |