LLOYDMINSTER SELECTED AS HOST OF THE 2021 ESSO CUP
The Esso Cup, Canada's National Female Midget Championship, is headed back to Alberta in 2021 when the Lloydminster Steelers host the 13th edition of the event, April 18-24. DETAILS >
---
HOCKEY ALBERTA GETS RECOGNIZED BY RESPECT GROUP
Hockey Alberta is proud to be recognized by Respect Group for our long-time participation and leadership in the Respect in Sport program. DETAILS >
---
MHA SAFETY LEAD TRAINING SESSION - SEPTEMBER 7
As part of ensuring a safe environment for players, Hockey Alberta is encouraging each of its associations to identify a person who is passionate about safety in the game to fulfil the role of the Safety Lead. As part of this role, Hockey Alberta will be providing a one day training session on Saturday, September 7 at the Hockey Alberta office in Red Deer. MEMO > | REGISTER >
---
SLEDGE HOCKEY DEVELOPMENT FOR PLAYERS AND COACHES - SEPTEMBER 21
Hockey Alberta is kicking off the 2019-20 season with a two-day Sledge Hockey Player Development Camp at the Gary W. Harris Canada Games Centre in Red Deer on September 21-22. Along with the player camp, there will be a sledge hockey specific Coach 2 clinic offered for those who coach in the game. PLAYER REGISTRATION > | COACH REGISTRATION >
---
REGISTRATION NOW OPEN FOR THE 2019-20 NHL/NHLPA FIRST SHIFT PROGRAM
The First Shift is a truly unique experience for new-to-hockey families, designed to help your child fall in love with hockey before you buy all the gear. The six-week learn to play program focuses on having fun while learning basic skills. INFO > | REGISTER >
---
AFHL ALL-IN ON CONCUSSION SAFETY WITH HEADCHECK HEALTH
The Alberta Female Hockey League (AFHL) have announced a new agreement with HeadCheck Health, Inc. to supply all teams with mobile and web-based technology to follow the league's concussion protocol and record and share vital information on suspected concussions with medical professionals. INFO >
---
COACHING APPLICATIONS NOW BEING ACCEPTED FOR 2020 ARCTIC WINTER GAMES
Hockey Alberta is now accepting applications for coaching positions with the male and female Team Alberta North squads that will participate in the 2020 Arctic Winter Games. INFO >
---
HOCKEY ALBERTA AND DIGITEX EXTEND PARTNERSHIP
Digitex Canada Inc. and Hockey Alberta are pleased to announce that Digitex has been named as the Official Office Equipment provider for Hockey Alberta. DETAILS >
---
LAKE BONAVISTA MHA GIRLS HOCKEY WEEKEND - AUGUST 24 & 25
Lake Bonavista will be hosting their 4th annual Girls Hockey Weekend on August 24 & 25. This volunteer-run event raises money for charity while providing a number of free camp spots to young girls who may otherwise not be able to attend such an event. For details on coaching line-up, schedule, media enquiries, etc. please call Mick Beale at 403-828-0039.
---
GLENCROSS INVITATIONAL RODEO CHARITY ROUGHSTOCK RAFFLE
The Glencross Invitational Charity Roughstock Event is giving you the chance to win this 2019 GMC Sierra 1500 Truck with the elevation package. Tickets are $100 and can be purchased by visiting the Hockey Alberta office or calling 403-342-6777. Proceeds support the Ronald McDonald House® Central Alberta and the Hockey Alberta Foundation Every Kid Every Community program.
---
CELEBRATE THE GAME WITH IIHF GIRLS' HOCKEY WEEKEND!
World Girls' Hockey Weekend will celebrate the female game from coast to coast to coast - and beyond - Oct. 4-6. Will you join the party? Get your event registered now! DETAILS >
---
INTRO TO HOCKEY MODEL FOR 2019-20 SEASON
Are you ready for the Intro to Hockey Model for the upcoming season? Check out the guidelines and playing rules for all players, ages 5-8 years. DETAILS >
---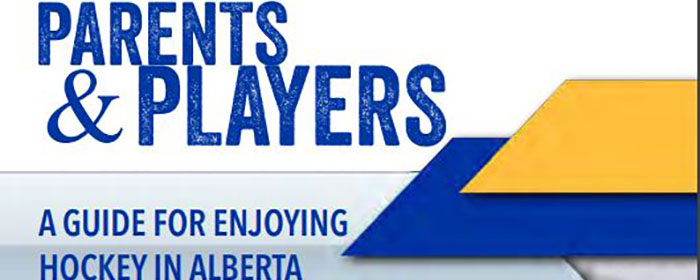 PARENTS & PLAYERS GUIDE FEATURE - FAIR PLAY
Hockey is an emotional sport. Whether it is the behaviour of our kids on the ice, our parenting comments in the car, or the remarks and actions of spectators in the arena, we all share a responsibility to conduct ourselves in a way that creates a positive culture around the sport we love. INFO >
View the Fair Play information in our Parent Guide!
---