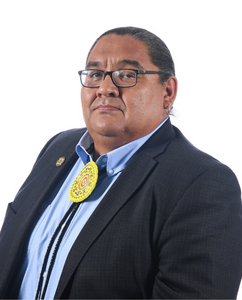 RED DEER – The Hockey Alberta Foundation welcomed Stephen Buffalo as the newest member of the Board of Directors at its annual general meeting on December 1.
Buffalo, from Calgary, is the President and CEO of Indian Resource Council of Canada (IRC). The IRC was created in 1987 to support First Nations to attain greater control and management of their oil and natural gas resources and currently represents more than 150 First Nations members throughout Canada. IRC advocates and lobbies with all levels of governments, resource organizations and private sector companies on local, national and international levels on behalf of its members.
Buffalo is a graduate of the University of Lethbridge (Bachelor of Management), and Medicine Hat College (Business Administration), and brings a diverse range of experience to the Foundation, including:
Senior Fellow, Macdonald – Laurier Institute, Ottawa
Oil & Gas Speaker Series, Queen's University, Ontario
First Indigenous Governor, Canadian Energy Executive Association
Board of Directors, University of Calgary Re-Development Initiative
Board of Directors, Samson Management Ltd.
Board of Directors, St. Mary's University
Former National President, Notre Dame Alumni Association
Athol College of Notre Dame, Board of Regents
Buffalo is also a scout with the Lethbridge Hurricanes, has completed Level 1 and Level 2 hockey coach certification, is a Pow-Wow participant (Traditional Dancer), and a Knights of Columbus Volunteer (3rd Degree Knight).
At the same time, the Foundation bids farewell to long-time director Lorne Radbourne of Grande Prairie, who recently stepped down from his position.
"On behalf of the Board of Directors of the Hockey Alberta Foundation, I want to thank Lorne for his years of volunteer service," said Dennis Zukiwsky, Chair of the Foundation. "Lorne's experience and expertise has been valued in helping the Foundation set its strategic direction, especially his work on the Communications committee."
For more information on the Hockey Alberta Foundation, go to hockeyalbertafoundation.ca.