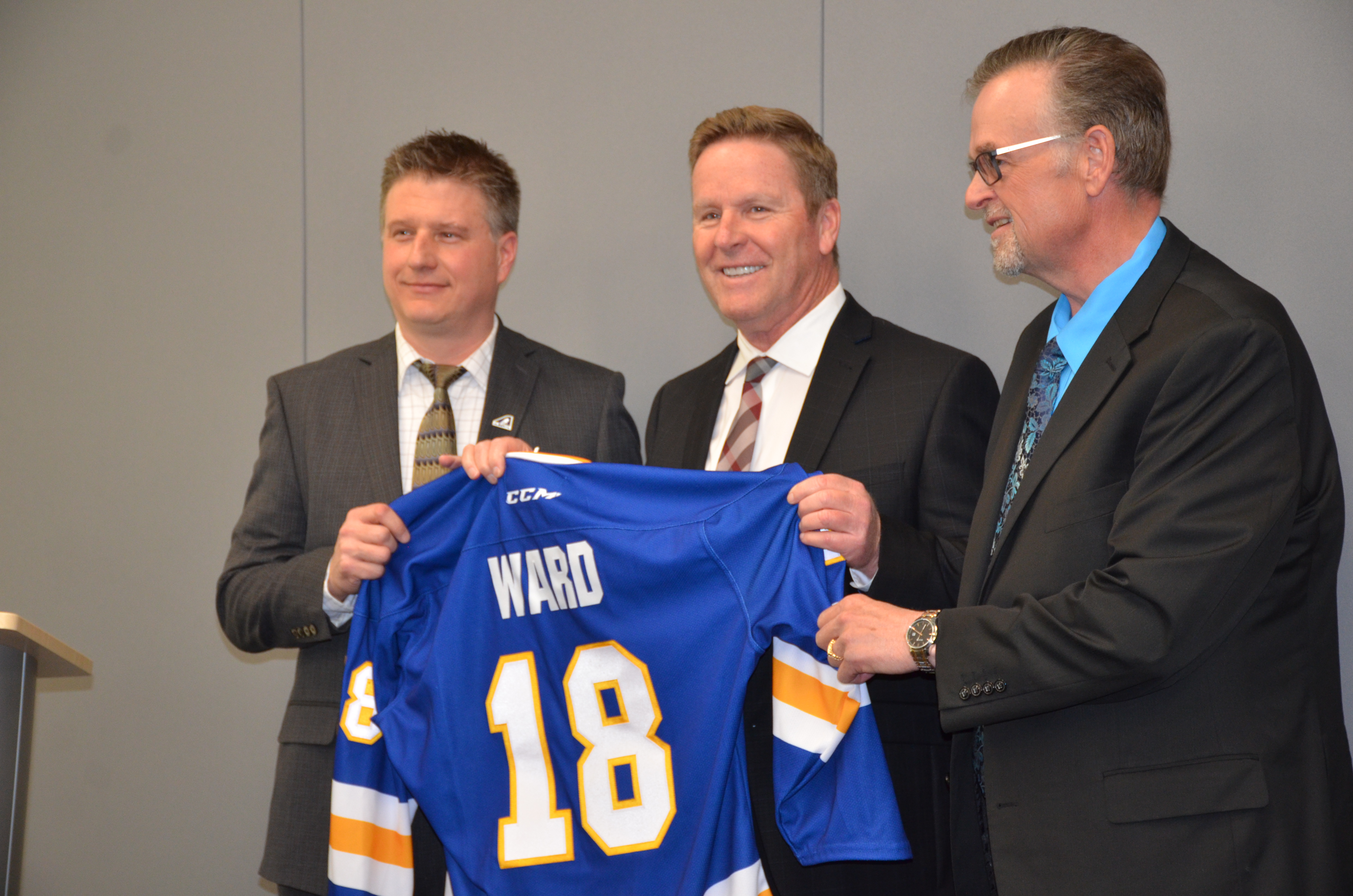 RED DEER - Red Deer College honoured its longtime partner Hockey Alberta this afternoon in the Gary W. Harris Canada Games Centre/Centre des Jeux du Canada at a celebration recognizing Hockey Alberta's $1.5 million donation toward building the facility.
The Centre is now the home of Hockey Alberta's head office and provincial training centre, and the site of conferences, competitions and training events for many of the programs the organization coordinates including the Alberta Cup this weekend, featuring the top bantam-aged players in the province.
The partnership between these two organizations began with a Charter in 2011, when Hockey Alberta moved its head office onto RDC's Main Campus. The partnership has allowed both organizations to increase the ways they serve Albertans through collaboration. The partnership also allowed RDC and Hockey Alberta to pursue a new facility to support the development of the sport, a vision which contributed significantly to the planning and execution of the Gary W. Harris Canada Games Centre.
"While this facility is home for Hockey Alberta's head office and is a tremendous addition to central Alberta, Hockey Alberta's vision is to use it as a central hub for hockey in the province," said Rob Litwinski, CEO of Hockey Alberta. "This long-term strategy for Hockey Alberta has always been about more than the facility. It has been about having a centre where Hockey Alberta could operate its many programs and events in a central location."
Since its opening in the fall, Hockey Alberta has hosted thousands of coaches, officials, volunteers, administrators and players from around the province for various programs, training seminars, events. "We believe this is only the start as Hockey Alberta adds more of its own programming and events in Red Deer, and pursues hosting National and International events," says Litwinski. "The decision to make an investment into the Gary W. Harris Canada Games Centre was based on a business model which will allow Hockey Alberta to enhance its opportunity to diversify its revenue with added programs, events, brand growth and partnerships."
Creating this competition and training space as a part of RDC's significant infrastructure development project provides an unparalleled opportunity for athletes at all levels. Hockey Alberta accesses the fitness zone along with boardrooms, classrooms, gymnasium, residence and arena facilities for its wide array of off-ice and on-ice development programming for coaches, administrators, and officials. This includes Hockey Alberta's Leadership Development Weekend in June for coaches, mentors, and development directors.
Hockey Alberta's presence on campus creates enhanced practicum and field placement opportunities for RDC students from a leadership, business or sports perspective, as well as collaborative programming opportunities in these areas. In this way, the unique collaboration provides opportunities for current as well as future learners.
"Hockey Alberta is a true partner," says Joel Ward, RDC President and CEO. "We've shared the vision for developing leaders in our region - through education and through sport - for a long time, and we're dedicated to helping each other serve these needs in our community."
The generous donation from Hockey Alberta was key to construction of the Gary W. Harris Canada Games Centre, and the unique, collaborative partnership is critical to the way that RDC can support the learning needs of Albertans. "As we look toward becoming Red Deer University, we're proud of the practical, applied learning opportunities that our partnerships help us provide, opportunities which further set us apart as a leader in innovative approaches to learning," says Ward. "In addition to the practicum and placement opportunities, having Hockey Alberta located in our new Centre will further blur the line between learning and work experience, seamlessly transitioning our business and sport studies students into careers in industry."