RED DEER - The second annual Piper Creek Optimist Club of Red Deer's Battle of Alberta fundraiser for the Every Kid Every Community program was a major success, with $21,000 going to the Hockey Alberta Foundation.
The event was held in January at Bo's Bar and Grill in Red Deer, with Edmonton Oilers and Calgary Flames fans gathering for a night of hockey, stories, and a chance to win tickets to see the Battle of Alberta in Edmonton on January 25, and in Calgary on March 31.
The night was hosted by Red Deer Rebel's Game Night Host Troy Gillard. Special guests Rob Brown, Jason Strudwick and Curtis Glencross were also in attendance, and treated the crowd to an intimate hockey hot stove.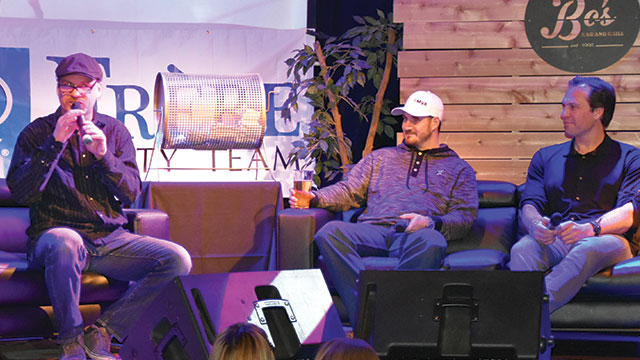 From left: Rob Brown, Curtis Glencross and Jason Strudwick

"We were thrilled to once again partner with the Piper Creek Optimist Club of Red Deer to bring the Battle of Alberta fundraising event back for a second year," said Tim Leer, Executive Director of the Hockey Alberta Foundation. "The event was once again a major sucess, and we are very humbled by everyone's support of Every Kid Every Community."
The event brought in just under $30,000 total, with roughly $8,000 going back to the Piper Creek Optimist Club for other youth initiatives in Central Alberta.
The Hockey Alberta Foundation would like to thank all of the generous sponsors of this event: the Piper Creek Optimist Club of Red Deer, Bo's Bar and Grill, Edmonton Oilers Community Foundation, Calgary Flames Foundation, ATB Financial, ATB Investor Services, McCaw's Drilling & Blasting Ltd., WestJet, the Molson Coors Brewing Company, Your Wedding Place and the FrèreRealty Team.
Another thank you goes out to the silent auction and door prize sponsors: Longball Inc, Stewart Creek Golf Club, Ryde RD, YogaNation, Troubled Monk Brewery, Famoso Red Deer, Red Deer Rebels, Calgary Hitmen, Heritage Lanes, Hansen Distillery, Cold Garden Beverage Company, Wild Rose Brewery, Tool Shed Brewing Company, Annex Ale Project, Last Best Brewing and Distilling, Coulee Brew Co, Stone Heart Distillery, Alley Kat Brewing Co, and Folding Mountain Brewing.