| | | |
| --- | --- | --- |
| Len Samletzki | Allan Mowbray | Danielle Paradis |
RED DEER - Len Samletzki of St. Albert was re-elected as chair of the Hockey Alberta Board of Directors during the 115th Annual General Meeting held virtually on December 1.
Also re-elected to the Board of Directors for a three-year term is Calgary's Allan Mowbray. Joining the Board for her first term is Danielle Paradis of Edmonton after being elected as a new Director.
Paradis will step into a new elected Director position created through the approval of two Bylaw amendments during the AGM. In part, the amendments remove the position of Past Chair, and replace that with an elected director.
Biographies and short videos for Samletzki, Mowbray and Paradis can be found on the Hockey Alberta website. They join returning directors Al-Amin Vira, Karen Lee, Bill Gourlay, Kirstan Jewell and Francois Gagnon.
In his opening remarks, Samletzki thanked everyone who worked hard during the 2021-22 season as hockey returned after the COVID-19 pandemic. He also cited the work undertaken by the Equity, Diversity and Inclusion (EDI) committee in working to ensure that hockey is free from maltreatment and discrimination.
Samletzki also recognized the recent announcement of a new Hockey Alberta Life Member - Loren Krukowski (Warburg). A video tribute on Krukowski's career as a hockey volunteer can be found by clicking the link below or going to Hockey Alberta's YouTube channel.
To conclude the meeting, it was announced that Fran Zinger is stepping down from the Board of Directors. Samletzki thanked Fran for her 16 years of service, and introduced a special tribute video that includes memories and reflections from Zinger, fellow board members and staff at Hockey Alberta.
In addition to the elections, two Notices of Motion were passed by the Members pertaining to amendments of Hockey Alberta's Bylaws. The Notices of Motion pertain to Article 5 - Nominations, and Articles 1, 5, 7 - Board Positions.
Following the completion of the formal AGM agenda, operational updates were provided to the Members. Dennis Zukiwsky, chair of the Hockey Alberta Foundation, recapped a very busy year for the Foundation. Mike Klass, Director of Business Operations for Hockey Alberta, provided a financial update. And Hockey Alberta's CEO Rob Litwinski provided a review of the 2021-22 and an update on work undertaken in 2021-22 towards achieving the Objectives and Key Results that are shaping the organization's strategic priorities between now and 2025.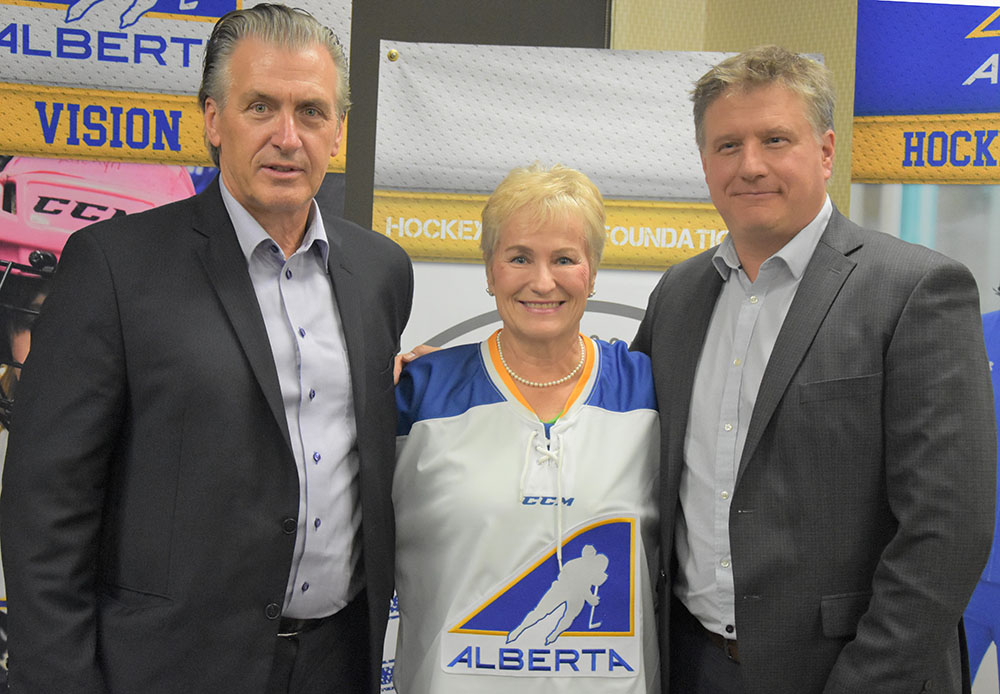 Fran Zinger receiving her Hockey Alberta jersey from Board Chair Len
Samletzki and CEO Rob Litwinski.