LLOYDMINSTER - What started out as a local initiative for the Lloydmister PWM Steelers of the Alberta Female Hockey League, quickly turned into a league and province-wide success story this holiday season.
Project PJ was started by 12 year-old Olivia Brockhoff in 2015, after a friend of her sister, who was going through cancer treatment at the Stollery Children's Hospital, complained about the pajamas provided to her by the hospital. Now, every year, Olivia collects donations of pajamas to give to the hospital.
Tanya Plamondon, whose daughter plays for the Steelers, brought the idea to the Midget AAA team, and it snowballed from there.
"I've known Olivia and her parents for a long time, and I've been donating pajamas since she started (Project PJ)," said Tanya. "I wanted our team to do something big this season, so I mentioned it to (Head Coach) Randy (Laumbach), and we went from there. It worked out awesome since we had six home games to collect the pajamas in November, and we collected 89 pairs our first game through all us and our fans. The following weekend, we had the Calgary Fire and Edmonton Pandas accept our challenge to them, which was all in good fun, and the response was great. We also had the Rocky Mountain Raiders accept our challenge."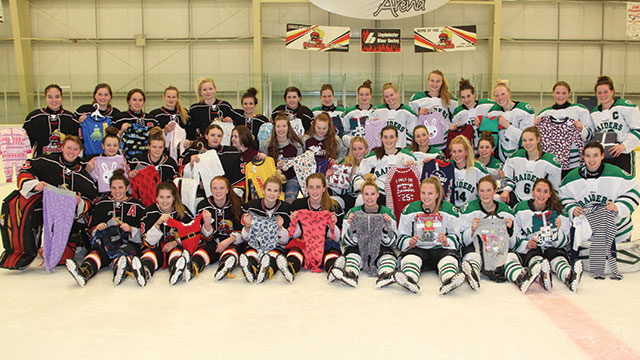 The Fire, Pandas and Raiders collected a combined 140 pairs of pajamas. The captain of last year's Steelers team, Tessa Mitchell, also challenged her current team, the MacEwan Griffins, to join the cause, adding another 125 pairs of pajamas to the team's total, which were presented to the team on November 25, with Mitchell conducting the ceremonial faceoff.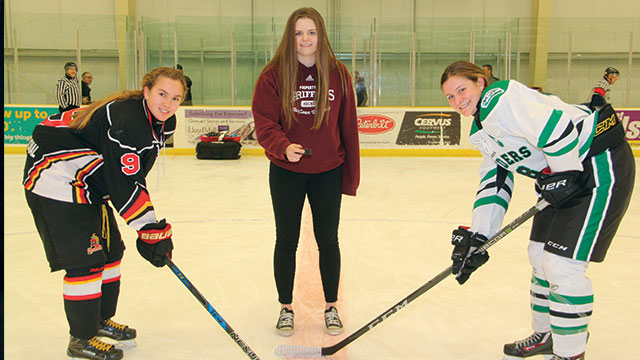 After an incredibly successful campaign for Project PJ, the Steelers managed to collect an astounding 513 pairs of pajamas, which were presented to Olivia during the team's game on November 26.
As of December 1, Olivia has collected over 1000 pairs of Pajamas through Project PJ, all of which will be donated to the Stollery Children's Hospital.
---
Hockey Gives Back - We want to hear from you!
Hockey Alberta would like to showcase all of the hockey teams across Alberta who give back to their community this holiday season. Send your team's story, along with photos, to [email protected] to be featured on Hockey Alberta's website.
---
Hockey Alberta is proud to unveil a new section at hockeyalberta.ca. Home Ice Feature stories will focus on interesting stories about the individuals and groups who make a difference within the hockey community in Alberta. If you have a suggestion for a Home Ice Feature story, email [email protected].