RED DEER - The power of sport was at the forefront as Catriona Le May Doan delivered the keynote address to kick off Hockey Alberta's 2017 Hockey Conference and Annual General Meeting on Friday night at the Sheraton Hotel.
The two-time Olympic gold medalist, and Olympic bronze medalist, shared stories of her journey, and the path that took her to the highest level of success an athlete can achieve.
"Those medals represent about two-and-a-half minutes of a 23-year journey. To me, success is about that entire journey," Le May Doan said of her three Olympic medals, which she brought with her to pass around the crowd. "The reason I was successful was because I didn't burn out mentally.
Le May Doan also stressed the importance of being a multi-sport athlete, and focused on several examples of successful multi-sport athletes.
"It's our duty to say, in hockey, and in all sports, 'what else do you do?'" she said.
She also told the 150 people in attendance it's their job to ensure kids don't get burnt out mentally, and to make sure they're still having fun.
"We're seeing kids over-scheduled these days, and we're seeing kids over-stressed," Le May Doan said. "We're not allowing kids to just play."
Le May Doan closed her keynote address by reinforcing her believe of the power of sport, saying "not everyone likes change, but when you put the athletes first, and you embrace sport for life, change is the right thing. Sport has the ability the change lives, and to change lives for good."
---
2017 Hockey Alberta Awards
Following the keynote address, seven individuals and four minor hockey associations were recognized for their outstanding contributions to hockey in Alberta, as the 2017 Hockey Alberta Awards, sponsored by BFL Canada, were presented.
The 2017 Hockey Alberta Award winners are:
Minor Hockey Association Executive of the Year: Pamela Brown (Grande Cache Minor Hockey Association)
Minor Hockey Association of the Year: Marwayne, Dewberry and Kitscoty Minor Hockey Associations
Meritorious Award: Greg Nesom
Provincial Championships Exceptional Host Site Award: Wainwright Rustlers (Senior Male AA)
Hockey Development Awards: Jeremy Congo, Keith Hurd, Ron Oscroft, Roger Wolfe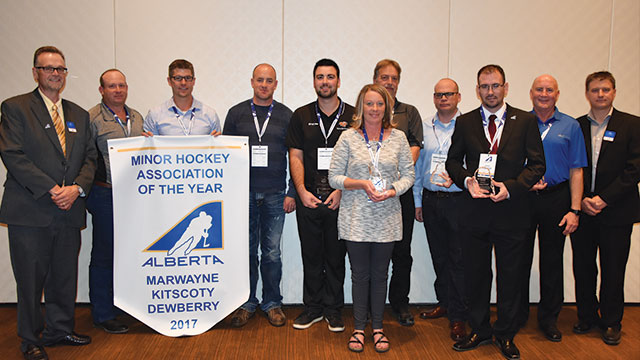 Recipients of the 2017 Referee Committee Awards were also recognized during the reception:
Ernie Boruk Award: Dave Butler (Edmonton)
Dave Ganley Award: Doug Brown (Okotoks)
Zone award winners:
South Zone: Joyce Graham (Picture Butte)
Central Zone: Mykle Davidson (Calgary), Brandon Renner (Cochrane), Ian Calverley (Calgary)
North Central Zone: Darren Pickering (Sylvan Lake)
North Zone: Darcy Carter (Stony Plain), Scott Hennig (Fort Saskatchewan), George Hart (Edmonton)
North East Zone: Rob Larson (Cold Lake)
Peace Zone: Bryan Turner (Grande Prairie)