CANMORE – After more than two years of waiting, the Class of 2022 (formerly the Class of 2020) was inducted into the Alberta Hockey Hall of Fame (AHHF) on Sunday, July 17.
The Class of 2022 features seven outstanding individuals - including four Stanley Cup champions and a two-time Olympic gold medallist - along with the 1975 Canada Winter Games and Alberta Provincial Junior B champions.
Bill Bucyk, Cassie Campbell-Pascall, Bob Clark, John Davidson, Dr. Randy Gregg, Ken Hitchcock, Jamie Macoun and the 1974-75 Lethbridge Native Sons were enshrined in Alberta's hockey history during the AHHF Gala at the Coast Hotel in Canmore.
The Gala is hosted by Hockey Alberta and the Hockey Alberta Foundation, and the 2022 event was the 40th anniversary of the initial AHHF induction ceremony held in 1982. Ryan Leslie, NHL host on Sportsnet, was the emcee for the evening.
Throughout the evening, a common theme among the inductees was reflecting on how living in Alberta influenced their careers, and thanking those who played key roles in their success.
BILL BUCYK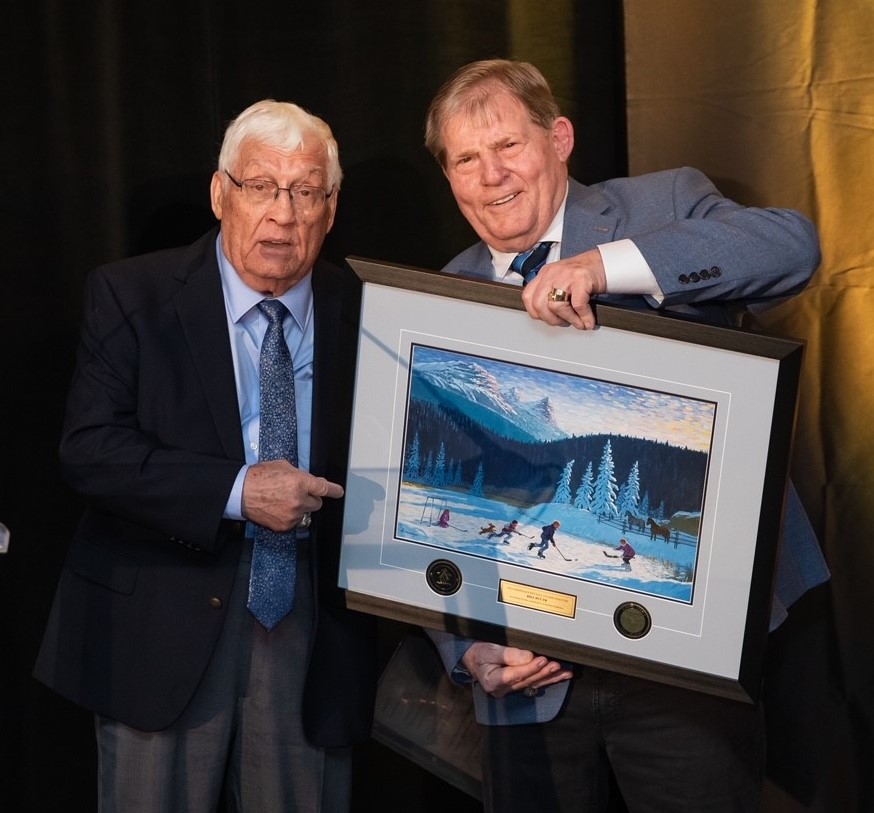 Bill Bucyk was a respected linesman, referee and leader who skated in the World Hockey Association and internationally, and helped train some of the longest-serving officials in the NHL. He joins his brother Johnny Bucyk (Class of 2016), the long-time member of the Boston Bruins, in the AHHF.
Bill recalled playing road hockey with Johnny as kids, and waiting for the milkman to go by with the horse so they could get a puck.
He also recalled officiating games in which fellow inductees Randy Gregg and John Davidson played. He talked about Ken Hitchcock. But rather than a Hall of Fame coaching career, Bucyk recalled Hitchcock "as the best man to sharpen skates, nobody could an edge on them like Kenny could." And he showed off one of the red pucks that were used during his officiating career in the WHA.
CASSIE CAMPBELL-PASCALL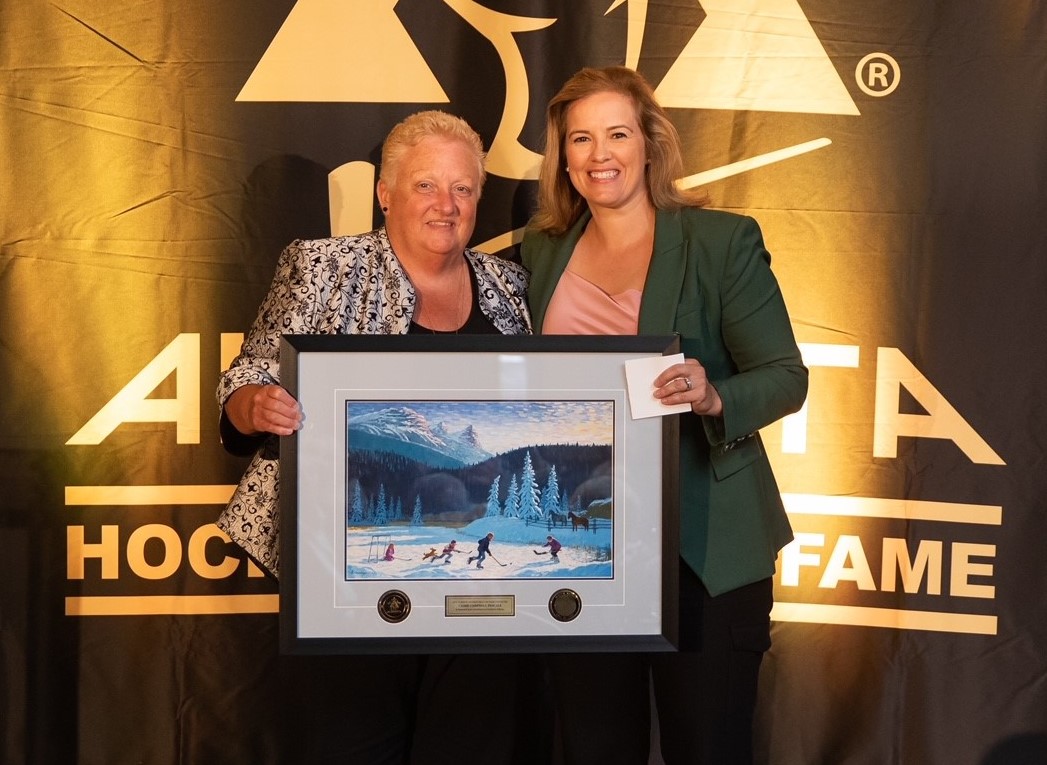 Cassie Campbell-Pascall had an unparalleled career including captain of the Canadian National Women's hockey team, two-time Olympic gold medalist, and six-time world champion, along with trailblazing work as a broadcaster nationally and internationally.
She reflected on how she got her start in hockey in Ontario, but that she has been a proud Albertan for 22 years. She thanked Mel Davidson (Class of 2017) for her role as a coach, and now as a friend, along with Loretta Normandeau (Class of 2011).
"Loretta, what you've done for women in hockey across the country, and particularly in Alberta is tremendous," Campbell-Pascal said. "Although her team beat my Team Ontario, we were the favourites in 1991, and Team Alberta comes out of nowhere and beats us."
BOB CLARK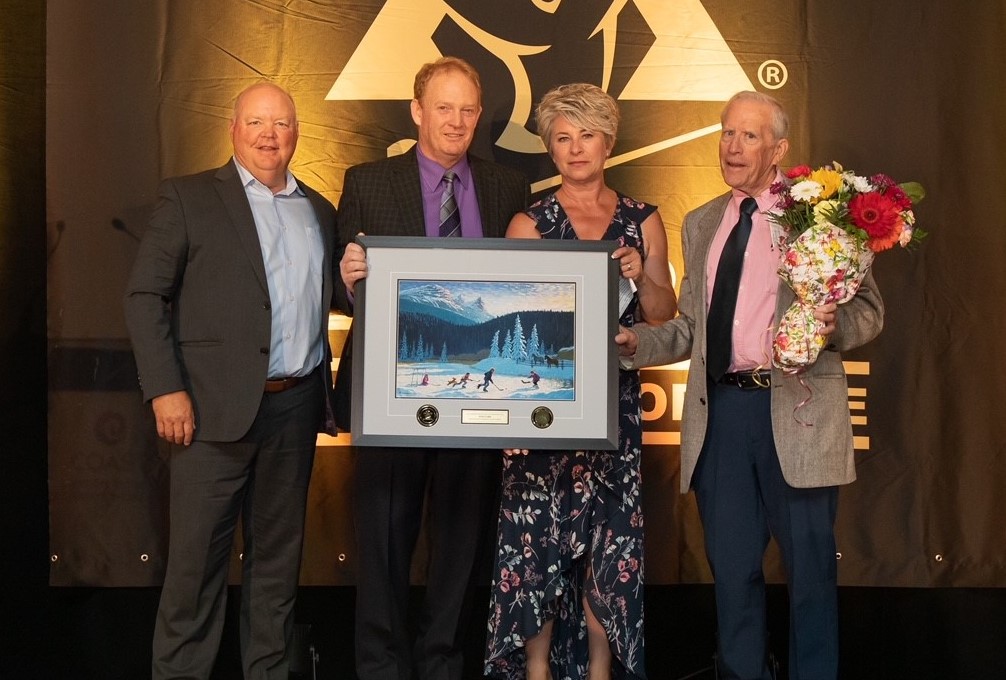 Bob Clark was the first-ever Minister of Youth in Alberta, and the face of Junior A hockey in Alberta with the Olds Grizzlys and the Alberta Junior Hockey League.
Clark, who passed away in July 2020, was represented by his children Dean and Donna. His wife Norma said grace prior to dinner being served.
"Over the years, I had many conversations with dad on how to build teams. Dad said one of the most important things was getting the right people to do the right jobs," said Dean.
Donna talked about her father's passion for the Grizzlys and the Alberta Junior Hockey League, and how "he bled black and gold."
Along with Clark's Hall of Fame induction, a new Hockey Alberta award was announced in his memory by Bob Bartlett, a member of the AHHF committee. The Robert Clark Legacy Award for Leadership in Hockey will recognize individuals for long-time leadership in the sport and for establishing positive community relationships.
JOHN DAVIDSON
John Davidson was an outstanding NHL goaltender, award-winning broadcaster, and respected front office executive who currently is president of the Columbus Blue Jackets.
Davidson was unable to attend, but in a video acceptance speech said his induction was about thanks.
"The thanks is owed to the province of Alberta, and all the areas myself and my family have lived," Davidson said. "And it's about family… The support has been just wonderful all these years, even though we've been spread out."
He talked about his parents, and recalled when "they stretched out the budget and bought my first pair of goalie skates. It was a big deal to spend that much money, and it was a big deal for me to get it, and it really helped me move along as a goaltender."
He recalled his one season playing Tier 2 hockey for Lethbridge. They were losing to the Edmonton Maple Leafs in a playoff game in Edmonton, when the arena caught fire and eventually burned to the ground. The series eventually resumed in Taber, with Lethbridge sweeping the series.
DR. RANDY GREGG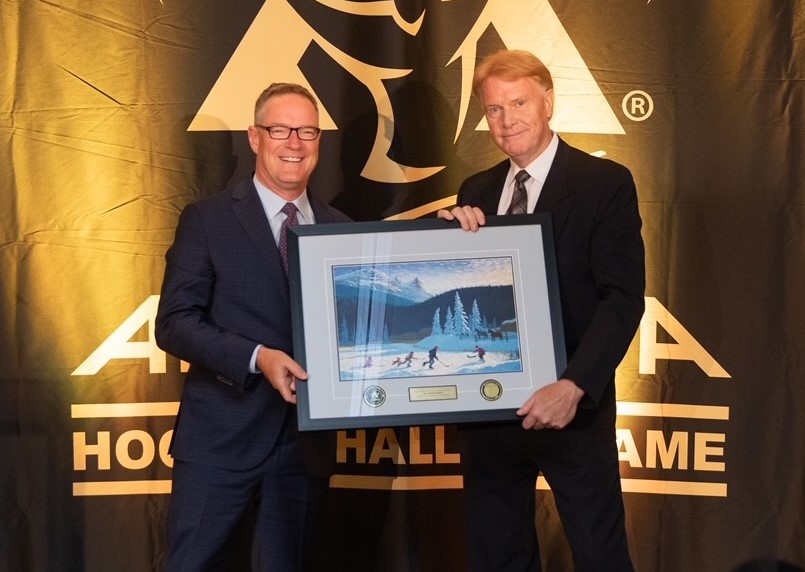 Randy Gregg was a five-time Stanley Cup champion with the Edmonton Oilers and two-time CIAU champion.
Gregg took the opportunity to talk about three athletes who have been key people in his life – his wife Kathy, an Olympic speedskater he met at the 1980 Lake Placid Winter Olympics, and his daughters Sarah and Jessica.
"It's amazing, for all the accomplishments we all have, the sacrifices that are made by our spouses, the real award should go to my wife Kathy," Gregg said.
He recalled Sarah as an 11-year-old softball pitcher, who wouldn't come out of a game after taking a line drive to the shin, because the team needed her.
"I look at that, and the qualities she learned playing sports made her such a great mother, a great wife, and a great community citizen," Gregg said.
Jessica was also a national team speedskater, who became a great mother and wife, thanks to her involvement in sport.
"As much as we love to give accolades to the fine people who are inducted into a hall of fame, what we really want in the sport of hockey is to make a difference in all those young boys and girls who are playing our sport, and make sure their lives are enriched."
KEN HITCHCOCK
Ken Hitchcock was a Stanley Cup champion NHL head coach, and three-time Olympic gold medalist with Team Canada over a more than 40-year coaching career.
Hitchcock, who also was unable to attend, focused on the important of living in Alberta as he was starting his career.
"My coaching chops were all cut in Alberta, and in particular Sherwood Park. The support that I had in Sherwood Park minor hockey for 12 years gave me a leg up on a lot of coaches," Hitchcock said in his video acceptance speech.
He also thanked the support he received from college and university coaches such as Dave King, Clare Drake (Class of 2006) and George Kingston (Class of 2016).
"They allowed us to become coaches and understood the science of coaching. They were very unselfish every summer in spending time and helping us to learn the concepts of what it was like to build a team," said Hitchcock. "That legacy tree that they started in the early 80s has led a lot of guys who are coaching in the NHL to great careers."
1974-75 LETHBRIDGE NATIVE SONS

The Lethbridge Native Sons were the 1975 Canada Winter Games and Alberta Junior B provincial champions.
Team captain Joe Meli recalled how when the team was being formed in 1974, no one knew what was in store for them. But when the players and their families have gotten together over the ensuing decades, they have enjoyed telling and retelling the stories.
"Our family, friends, and the fans of Lethbridge made it so exciting for us, especially down the stretch when things were getting really exciting. It was just a tremendous time for a bunch of teenagers to go through that," said Meli.
JAMIE MACOUN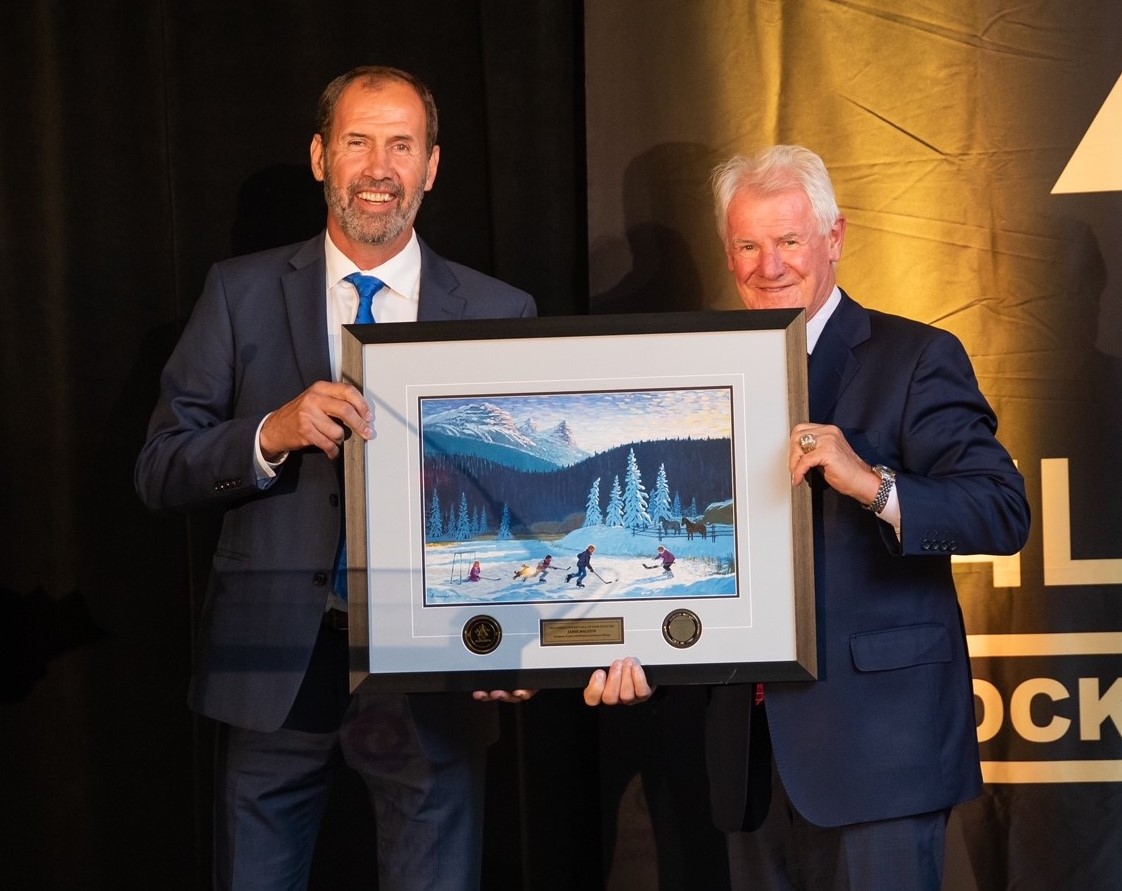 Jamie Macoun was a two-time Stanley Cup during a 17-year career with Calgary, Toronto and Detroit, and two-time World Championships silver medalist.
Macoun talked about the importance of giving back to the community, and focused on former teammate Lanny McDonald (Class of 2015), and his involvement in Special Olympics dating back to when he was a Toronto Maple Leaf.
"Lanny decided that he needed to give back to the community and he gave back to the community when he was 20, and he's still giving back to the community now," said Macoun.
He also reflected on the unsung heroes who volunteer to help ensure that others can participate, often at the expense of time with their own families. He talked about his father, who founded a junior team in Newmarket, Ontario, and was also on the executive of the Newmarket Minor Hockey Association. Macoun said it wasn't until he was 12 years old that he realized his father had never been on skates.
"He and my mom, the amount of time spent making dinners, rushing off to practices. It's not until you get older and have your own family that you realize how much work that is," Macoun said.
For more information on the Alberta Hockey Hall of Fame and the Class of 2022, check the AHHF website at ahhf.ca.