Although 'follow your dreams' is a common phrase, few people have taken that advice to heart quite like Kodie Curran.
At age 30, the Calgarian recently signed his first NHL deal with Anaheim Ducks - a two-year, one-way contract, the culmination of years of hard work, perseverance, and a seemingly unmatched love for the game.
After two productive seasons in the Swedish Hockey League, including a league MVP title this past season, the blueliner caught the eye of NHL scouts, and the Ducks announced the signing on June 1.
While Curran's unorthodox pathway to the NHL isn't completely unheard of, it's certainly not the 'cookie cutter' route that many take to hockey's highest level.
"I think a lot adversity through my career that I've had to battle," said Curran of his journey so far. "Not saying that other guys don't, but there's late bloomers, and then there's really late bloomers, and I was a really late bloomer. I didn't start playing high-end hockey until maybe I was 20, and then I took a bit of a break, and really got into my element when I was about 25."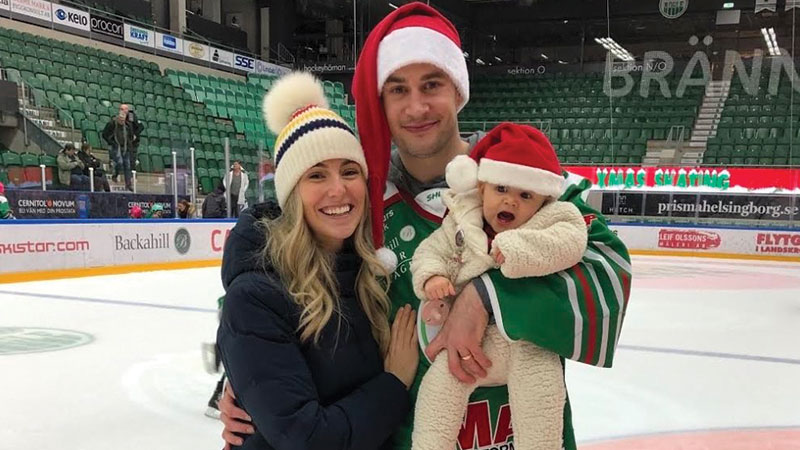 Kodie with his wife, Caitlin, and daughter Remi. (Photo courtesy of Kodie Curran)
Curran was certainly no stranger to adversity in his younger hockey days. After playing Bantam AAA with the Calgary Buffaloes organization, he was passed over in the WHL Bantam draft, and went on to play Midget AA (playing forward at the time), while many of his peers and former teammates were playing Midget AAA, and trending towards Major Junior hockey. Although somewhat disappointed at the time, he says it only helped push him harder.
"In Midget AA, you're thinking 'why am I not on the AAA team, why am I not on the AAA team? Now what happens? Now I'm not going to get drafted," Curran said. "There's so much doubt in your mind when you play in Midget AA at such a young age, but I think now kids are starting to be molded a little bit earlier to deal with that, which I think is great. I think it's important just to remember that where ever you're playing, you're not the player you're going to be in the future, down the road, so just really enjoy it, and that's what I tried to do."
After graduating from minor hockey, Curran enjoyed a successful career in the Alberta Junior Hockey League with the Calgary Canucks and Spruce Grove Saints, winning an AJHL title with the latter in 2010. Following his junior career, Curran played five seasons for the University of Calgary Dinos, helping the team to the National Championship in 2001, and earning West First All-Star Team honours in 2014 and 2015.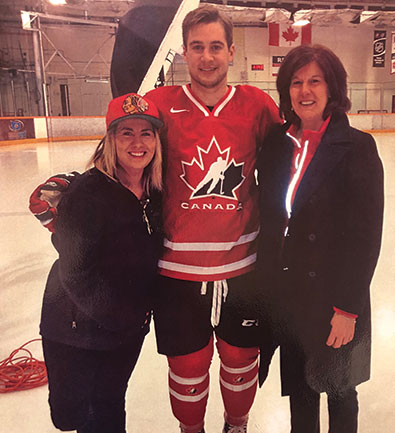 While the end of a post-secondary career could mark the last stop in a hockey player's journey, Curran decided he wasn't ready to give up on his dream. He signed a deal with the American Hockey League's Hartford Wolf Pack, the New York Rangers' top affiliate, and split time between the Wolf Pack and the Greenville Swamp Rabbits of the East Coast Hockey League. After making the difficult decision to play pro hockey in Europe, far away from his family and friends, he played in Denmark and Norway in 2016-17 and 2017-18, respectively, before landing with Rögle BK of the Swedish Hockey League.
Curran credits the overwhelming support from his family and friends as a key contributing factor to his success in Europe.
"My family has meant everything to me," he said. "When I think about this moment, and sharing it with them, words aren't enough to explain what they mean to me. To be that far away from home over in Europe, and to constantly be on FaceTime or getting texts from your family saying 'you're doing the right thing', they really solidified for me that I was in the right place in my life, and what I was doing was right."
Curran certainly made the most of his time in Europe, especially his two seasons in Sweden. This past season, he put up staggering numbers for a defenceman (12 goals and 37 points in 48 games), finishing second in the league in scoring, earning the title of league MVP. Curran was the first foreign-born player to be named the SHL's MVP since current Calgary Flame Derek Ryan, who took a similar path to the NHL, making his league debut at 29 years old.
"Last year was an amazing season," Curran said. "I ended up getting onto a team with young guys, great players, and we got hot, and it was an amazing year, one I'll never forget."
Despite nothing ever coming easy for him, Curran says his love of the game always got him through, and kept him looking towards the future.
"As you go through your career, everyone puts a label on the teams that you should be playing for, and the things that you should be doing, and where you should be at a certain age. I think a lot of kids, and parents especially, get caught up in that, and can put a lot of pressure on their kids. I didn't have any pressure from my parents, they really just wanted me to love the game of hockey, and I did that. And I think that's what got me through those tough times, was just my passion for the game. I didn't do anything that the hockey world says we 'should do', and here I am. So I think there are other ways to do it, and I hope this shows that there are other ways to get to your dreams."
Although his hockey career has recently taken him all over the world, Curran says his time playing grassroots hockey in Alberta were vital to his development and success.
"I think what's so great about (grassroots hockey in Alberta), is the development, and all the branch-offs that you can go into to play to have success. I always remember my roots and where I came from, I think Hockey Alberta's done a great job in developing young kids and making sure there's enough areas for all types of skills to play."
While he could have walked away from the game with his head held high at any point in his career, and a number of impressive accomplishments under his belt, Curran never gave up on his dream, and hopes his story can help inspire young athletes to chase theirs, and never let anyone, or anything, stop them.
"I didn't make a single (division) one team, I think ever, I didn't make AAA, and I was at a crossroads of whether to play forward or defence at 17 years old," he said. "For me, I always just tried to really fall in love with the game of hockey. If you don't love it, and it's not for you, then that's great. But I know there's a ton of kids out there that love the game of hockey, so let that be your inspiration, and let that be something that pushes you through these tough times, is that you love the game for its purity."
While the work isn't quite done for Curran, as the task of earning an NHL roster spot with the Ducks still lies ahead, he says he's looking forward to the challenge, and in the meantime, will enjoy some much-deserved rest and down time with his family.
(Third photo of Kodie with sister Jessica (left) and mom Deborah (right), courtesy of Kodie Curran)