March 7, 2019
---
TEAM ALBERTA U18 FEMALE WINS GOLD ON HOME ICE AT CANADA WINTER GAMES
The Team Alberta U18 Female team defended home ice at the 2019 Canada Winter Games in Red Deer by defeating Quebec 2-1 in a thrilling gold medal final. The team finished third in Pool B, with a 0-1-2 record, but really hit their stride in the playoff round where they defeated Manitoba 3-0 in the quarterfinals and BC 2-1 in the semi-finals. Sarah Wozniewicz had a terrific tournament for Team Alberta by scoring five points in six games, while Jaden Bogden scored the winning goal in the gold medal game. Both Bella McKee and Caroline Gosling were instrumental between the pipes during Alberta's run, with McKee sporting a .920 save %, one shutout, and the gold medal win, while Gosling finished with a 1.78 GAA and a clutch semi-final overtime win. READ MORE >
---
TEAM ALBERTA U16 MALE WINS BRONZE
The Team Alberta U16 Male hockey team defeated Saskatchewan 12-0 in the bronze medal game to take home a medal for the eighth straight Canada Winter Games. The team finished first in Pool B with a 2-0-1 record during the round robin phase, defeating Manitoba and BC, while suffering an OT loss to Saskatchewan. They went on to defeat New Brunswick 8-3 in their quarterfinal game, but fell 8-4 to Ontario in the semi-finals. Matt Savoie and Dylan Guenther lead the way offensively for Team Alberta, each finishing the tournament with 13 points in six games, including five each in the bronze medal game. READ MORE >
---
2019 ALBERTA HOCKEY HALL OF FAME INDUCTEES ANNOUNCED
Congratulations to the Alberta Hockey Hall of Fame Class of 2019 - Shirley Cameron, Theoron Fleury, Kevin Lowe, Duncan MacDougall, Bob Ridley, and the 1986-87 & 1987-88 Memorial Cup Champion Medicine Hat Tigers. The inductees will be honoured on Sunday, July 21 in Canmore in conjunction with the 2019 Hockey Alberta Foundation Golf Classic. VIDEO > INDUCTEE BIOS >
---
BE ALBERTA BUILT! UNLOCK YOUR PLAYER'S POTENTIAL - MARCH & APRIL SPOTS AVAILABLE ALL AROUND THE PROVINCE
Registration is ongoing for Alberta Built Skills Camps offered by Hockey Alberta. Your young players can have their potential unlocked at one of the following camps: Small Area Games, Power Edge Pro (PEP), Super Skills, Dynamic Shooting, Developing Defencemen and Goaltender Skills. Camps for March and April are scheduled in numerous locations across the province. ALBERTA BUILT SKILLS CAMPS REGISTRATION >
MEMBERS SOUGHT FOR AD HOC MEMBERSHIP DEFINITION COMMITTEE
Hockey Alberta's Board of Directors have approved the creation of an Ad Hoc Committee to review Hockey Alberta's membership definition. We are looking for individuals who currently or very recently worked in board level roles of Hockey Alberta member organizations to participate within this committee. The Board believes it is important to have committee members representing a variety of different members of Hockey Alberta. MORE INFORMATION & APPLICATION >
---
REGISTRATION OPEN FOR THE FUTURE COACHES PROGRAM
Future Coaches is designed to develop male and female Midget Aged players in the areas of coaching, skill instruction, and leadership. There will be three Future Coaches weekend clinics available in Red Deer, Calgary, and Edmonton.
Red Deer - April 5-6 - REGISTER >
Calgary - April 12-13 - REGISTER >
Edmonton - April 12-13 - REGISTER >
---
POST-SECONDARY STUDENTS: BECOME A FUTURE LEADER!
Registration is now being accepted for the 2019 Future Leaders Development Weekend, taking place in Red Deer, May 3-5. The Future Leader Development Program is designed to develop and train post-secondary students in the area of coaching. Selected Future Leaders will be trained on and off ice through classroom sessions that include: skill development, leadership, team building and off ice training. REGISTER NOW >
---
START YOUR JOURNEY TOWARDS NEXT SEASON - REGISTRATION OPEN FOR WHL & PEEWEE SKILLS CAMPS
WHL Skills - A unique skill development opportunity is available to 2005-born male hockey players in Alberta, as Hockey Alberta and the Western Hockey League are co-hosting the fifth annual WHL Skills Camp. The camp, for U15 players, is set to run June 7-9, 2019 in Calgary. REGISTER >
Peewee Skills - Alberta males born in 2006 have the unique opportunity to participate in the fourth annual Hockey Alberta Peewee Skills Camp. The camp takes place in Calgary at the Cardel Rec South Arena on June 21-23. This Skills Camp will focus on skill development, checking skills, proper training techniques, and will provide athletes with information about the Team Alberta process. REGISTER > | PEEWEE SKILLS VIDEO >>
---
LAST CHANCE: NOMINATE YOUR COACH FOR COACH OF THE MONTH
Get your nominations in for the Hockey Alberta Coach of the Month - Year end grand prize sponsored by Players Bench! All nominees from this season will be eligible for one of our two year end grand prizes, which include 2 tickets to an Edmonton Oilers game or a Calgary Flames Game!
Help us recognize a coach in your community by nominating him or her for the Hockey Alberta Coach of the Month! Nominations will be accepted until Friday, March 15th. NOMINATION FORM >
---
GOALTENDERS: TAKE YOUR GAME TO THE NEXT LEVEL
The Hockey Alberta Goaltender Skills Camp is a weekend development camp open to male and female athletes born 2004-2011, regardless of skill level. Camps are available in Edmonton (April 13-14) and Calgary (April 27-28).
The focus is on the development of goaltender specific skills, and each goalie will attend on-ice and off-ice sessions that focus on the mental and physical aspects of goaltending. On-ice sessions will be led by some of Alberta's top goaltender instructors and will have and instructor to goalie ratio of 3:1. NORTH CAMP REGISTRATION > | SOUTH CAMP REGISTRATION >>
---
LAST CHANCE: REGISTER FOR ALBERTA CHALLENGE REGIONAL CAMPS
Registration for 2004 and 2005-born female athletes to participate in one of two regional selection camps for the 2019 Alberta Challenge is set to close on March 15! The Alberta Challenge runs May 1-5 in Leduc.
Both regional camps will take place April 5-7 at the following locations (dates and locations subject to change):
South - Cochrane -- REGISTER >
North - Fort Saskatchewan -- REGISTER >
---

LET'S RECOGNIZE OUR PEOPLE! HOCKEY ALBERTA AWARD NOMINATION DEADLINE APRIL 15
Nominations are now being accepted for the 2019 Hockey Alberta Awards. You can nominate a deserving individual for any of the following awards: Coach of the Year, Player of the Year, Official of the Year or the Award of Merit. You may also nominate an outstanding team for Team of the Year. This is a chance to recognize the outstanding people in your organization. The deadline for nominations in April 15.
---
TEAMMATES HELPING TEAMMATES RAFFLE - DEADLINE TO PURCHASE TICKETS IS MARCH 25
Throughout the hockey season many team focus fundraising efforts on a charity of choice to support. We hope you will consider your teammates at the Hockey Alberta Foundation as your hockey charity of choice. We have launched the Teammates helping Teammates raffle in support of the Every Kid Every Community Grant Program. There are only 100 tickets available, with two identical grand prizes available: 25 tickets to the Calgary Flames vs Anaheim Ducks game on Friday, March 29, and transportation via motorcoach to and from Scotiabank Saddledome. Tickets are available for $100 each and can be purchased by cash, cheque or credit card by contacting the Hockey Alberta Foundation office or completing the online form.
---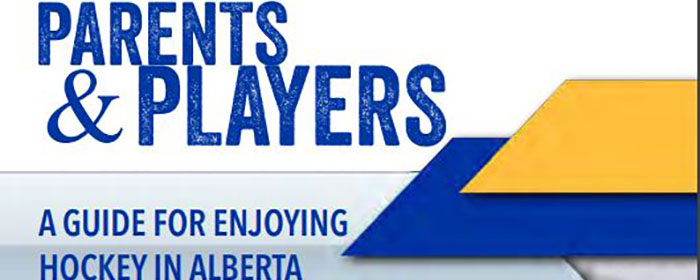 PARENTS & PLAYERS GUIDE FEATURE - SLEEP AND LIFESTYLE
Any parent who has picked up their child the morning after a sleepover knows that nothing can ruin their day (and yours) like lack of sleep. Sleep hygiene is part of a healthy lifestyle and sets your child up to be at their best at home, at school, and at the hockey rink. Check out a few tips to help your child get into a sleep routine >
ACTIVE FOR LIFE - Six ways to encourage healthy sleeping habits for the whole family
For more information and resources, check out the Parents tab at the Hockey Alberta website. RESOURCES >
---
GET GEARED UP FOR PLAYOFFS AND PROVINCIALS!
Let the madness begin! March is a month where springtime starts to near, and provincial champions are crowned. Get all of your Hockey Alberta and Provincial branded gear with the Hockey Alberta Shoppe! With options for men's, womens, unisex, youth, and team wear, the whole family can be bundled up to cheer on those young superstars. All throughout the month, receive 15% off ALL PRODUCTS by using the code MADMARCH until March 31! HOCKEY ALBERTA SHOPPE >
---
Try Girls Hockey Day --- Girls Hockey Calgary
#ForJack - St. Albert Peewee A Team Makes a New Friend
---