February 22, 2019
---
CANADA WINTER GAMES UPDATE
The 2019 Canada Winter Games are well underway in Red Deer and Team Alberta's U16 Male team is in the hunt for medal in the Men's Hockey tournament. The team finished first in Pool B with a 2-0-1 record during the round robin phase, defeating Manitoba and BC, while suffering an OT loss to Saskatchewan. They went on to defeat New Brunswick 8-3 in their quarterfinal game, but fell 8-4 to Ontario in the semi-finals. The chase for a medal is still alive as the team will play Saskatchewan for bronze today at 4:00pm at the Centrium. MORE INFORMATION >
---
BE ALBERTA BUILT! UNLOCK YOUR PLAYER'S POTENTIAL - MARCH & APRIL SPOTS AVAILABLE
Registration is ongoing for Alberta Built Skills Camps offered by Hockey Alberta. Your young players can have their potential unlocked at one of the following camps: Small Area Games, Power Edge Pro (PEP), Super Skills, Dynamic Shooting, Developing Defencemen and Goaltender Skills. Camps for March and April are scheduled in numerous locations across the province. ALBERTA BUILT SKILLS CAMPS REGISTRATION >
---
CANADA WINTER GAMES - WHAT'S AHEAD?
Shortly after the Men's tournament ends on Friday, February 22, the females will take centre stage with their tournament beginning on Sunday, February 24. The Team Alberta U18 Female team is in Pool B with BC, Nova Scotia, and Ontario.
Team Alberta U18 Female round robin games: Sunday, Feb 24 - 7:30pm - Centrium; Monday, Feb. 25 - 7:30pm - Centrium; Tuesday, Feb. 26 - 7:30pm - Centrium --- FULL FEMALE HOCKEY SCHEDULE >
---
REGISTRATION OPEN FOR THE FUTURE COACHES PROGRAM
Future Coaches is designed to develop male and female Midget Aged players in the areas of coaching, skill instruction, and leadership. There will be three Future Coaches weekend clinics available in Red Deer, Calgary, and Edmonton.
Red Deer - April 5-6 - REGISTER >
Calgary - April 12-13 - REGISTER >
Edmonton - April 12-13 - REGISTER >
---
POST-SECONDARY STUDENTS: BECOME A FUTURE LEADER!
Registration is now being accepted for the 2019 Future Leaders Development Weekend, taking place in Red Deer, May 3-5. The Future Leader Development Program is designed to develop and train post-secondary students in the area of coaching. Selected Future Leaders will be trained on and off ice through classroom sessions that include: skill development, leadership, team building and off ice training. REGISTER NOW >
---
---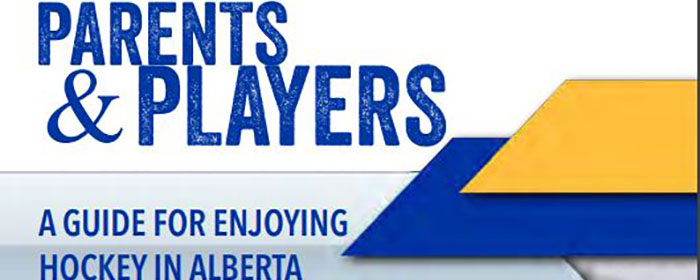 PARENTS & PLAYERS GUIDE FEATURE - FOUR THINGS THAT SHOULD BE PART OF EVERY CHILD'S HOCKEY EXPERIENCE
1. Highly active skills-based practices
2. Appropriate coaching during games
3. Respectful parents
4. Intense, yet respectful hockey
For more information and resources, check out the Parents tab at the Hockey Alberta website. RESOURCES >
---

LET'S RECOGNIZE OUR PEOPLE! HOCKEY ALBERTA AWARD NOMINATION DEADLINE APRIL 15
Nominations are now being accepted for the 2019 Hockey Alberta Awards. You can nominate a deserving individual for any of the following awards: Coach of the Year, Player of the Year, Official of the Year or the Award of Merit. You may also nominate an outstanding team for Team of the Year. This is a chance to recognize the outstanding people in your organization. The deadline for nominations in April 15. HOCKEY ALBERTA AWARDS NOMINATION FORM >
---
TEAMMATES HELPING TEAMMATES RAFFLE
Throughout the hockey season many team focus fundraising efforts on a charity of choice to support. We hope you will consider your teammates at the Hockey Alberta Foundation as your hockey charity of choice. We have launched the Teammates helping Teammates raffle in support of the Every Kid Every Community Grant Program. There are only 100 tickets available, with two identical grand prizes available: 25 tickets to the Calgary Flames vs Anaheim Ducks game on Friday, March 29, and transportation via motorcoach to and from Scotiabank Saddledome. Tickets are available for $100 each and can be purchased by cash, cheque or credit card by contacting the Hockey Alberta Foundation office or completing the online form.
---
GET GEARED UP FOR PLAYOFFS AND PROVINCIALS!
Stay warm while watching playoffs this season! With options for men's, womens, unisex, youth, and team wear, the whole family can be bundled up to cheer on those young superstars. For a limited time, get 10% off our New Era Toque & Soft Shell Jacket by using the code Cozy10 until February 28! HOCKEY ALBERTA SHOPPE >
---