RED DEER - The number of hockey teams in both the Alberta Sports Hall of Fame and Alberta Hockey Hall of Fame will grow to seven when the 1984-85 NAIT Ooks enter the Alberta Sports Hall of Fame on May 26 in Red Deer.
The NAIT squad is the only team, and one of two from hockey, among the dozen inductees announced this morning in Calgary, Edmonton and Lethbridge by the Alberta Sports Hall of Fame. The 2017 inductee list includes Athletes, Builders, Pioneers, Media and Achievement personnel.
The only Alberta-based national hockey champions of the male gender to go unbeaten and untied in the regular season and post season, NAIT joins the 1947-48 Edmonton Flyers, 1950 Edmonton Waterloo Mercurys, 1951 Lethbridge Maple Leafs, 1952 Olympic Champion Edmonton Waterloo Mercurys, 1962-63 Edmonton Oil Kings, and 1965-66 Edmonton Oil Kings as teams enshrined in both of Alberta's Halls of Fame. The NAIT squad was inducted into the Alberta Hockey Hall of Fame in 2012.
The 1984-85 Ooks were the first varsity national hockey champions from Western Canada to have a true (or complete) perfect season with 25 wins in the Alberta Colleges Athletic Conference (ACAC) regular season, five victories in the ACAC playoffs and three triumphs at the Canadian Colleges Athletic Association (CCAA) National Hockey Championships in Moose Jaw. With 33 wins in 33 regular season and post season outings, the team (which still holds six conference records) has the most wins of the five men's national hockey champions from the CCAA, U Sports, and NCAA to have a winning percentage of 1.000. They were also the first team to defeat a university team in its CIAU (now U Sports) national championship season en route to winning a CCAA National Hockey Championship.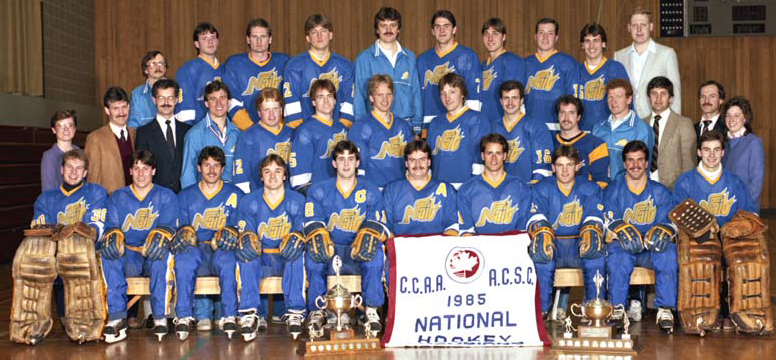 Back Row: Bruce Watson (Manager), Brenn Leach, Ken Goodwin, Mike Spencer, Darryl Bokenfohr (Assistant Coach), Ross Kenny, Dave Simmons, Gary Leach, Scott Melnyk, Brian Stein (Communications/Public Relations)
Middle Row: Patti Dahl (Trainer), Perry Pearn (Head Coach), Dr. Bill McBride (TeamDoctor), Rick Yaschyshyn (Trainer), Don Simpson, Ron Amyotte, Hugh McCaskill, Garth Hayes, Sid Cranston, Kevin Stapleton, John Phelan (Assistant Coach), Paul St. Cyr (Assistant Coach), Wayne Perkins (Assistant Coach), Cindy Schultheiss (Trainer)
Front Row: Cleo Rowein, Murray Melnyk, Mark Schultz, Kevin Imrie, Tom Tookey, Jamie Bartman, Gary Haddon, Mike Tookey, Randy Repchuk, Jeff Lastiwka
Also a member of the 2017 induction class is former Edmonton Oiler star Ryan Smyth, who played in 1,270 games and amassed 842 points during his 19-year NHL career. He played for the Edmonton Oilers for 15 years and represented Canada internationally 12 times, playing in 78 games.
Smyth earned the nickname "Captain Canada" as he was team captain at six World Championships. He won five gold medals while wearing the Team Canada jersey including the 2002 Olympic Winter Games, when the team won the first hockey gold medal in 50 years. Smyth also won gold at the World Hockey Championships in 2003 and 2004, the World Cup of Hockey in 2004, and the World Junior Hockey Championship in 1995.
For more information on the 2017 Alberta Sports Hall of Fame Induction Class, go to Alberta Sports Hall of Fame Webiste
The 2017 Alberta Hockey Hall of Fame Induction Class will be announced in March.