BE ALBERTA BUILT! UNLOCK YOUR PLAYER'S POTENTIAL - REGISTER FOR A SKILLS CAMP TODAY
Registration is ongoing for Alberta Built Skills Camps offered by Hockey Alberta. Your young players can have their potential unlocked at one of the following camps: Small Area Games, Power Edge Pro (PEP), Super Skills, Dynamic Shooting, Developing Defencemen and Goaltender Skills. Camps are scheduled in numerous locations across the province. ALBERTA BUILT SKILLS CAMPS REGISTRATION >
---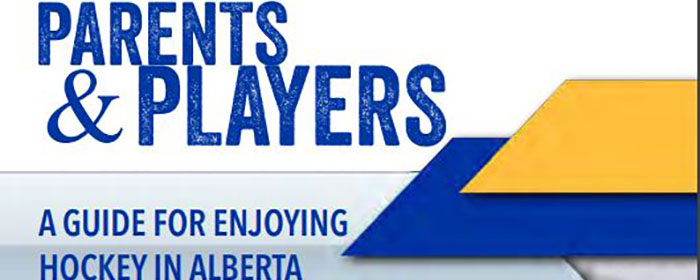 RESOURCES FOR MINOR HOCKEY PARENTS
Being a a parent in minor hockey can be a challenging role. Hockey Alberta is pleased to present information on a variety of topics to help parents as they try to provide the most positive hockey experience possible for their children. Check out the Parents tab at the Hockey Alberta website. Resources include Parents & Players: A Guide for Enjoying Hockey In Alberta. The publication provides a lot of important information for parents new to the game, and those who have been around for a while. INFO FOR PARENTS >
---
SPACES STILL AVAILABLE FOR ALBERTA CUP, ALBERTA CHALLENGE AND PEEWEE PROSPECTS
Registration is ongoing for athletes interested in participating in a Regional selection camp for the Alberta Cup (2004-born males), Alberta Challenge (2004-05 born females), and Peewee Prospects (2006-born males). Registration has been brisk, and varying numbers of spots are available for each event. Don't delay, register today.

ALBERTA CHALLENGE REGISTRATION > PEEWEE PROSPECTS REGISTRATION > ALBERTA CUP REGISTRATION >
---
EKEC SPEAKER SERIES COMING TO VEGREVILLE
The Hockey Alberta Foundation, in conjunction with Vegreville Minor Hockey and KidSport Vegreville, is bringing the Every Kid Every Community (EKEC) Speaker Series to Vegreville. The evening will feature former NHL players Rob Brown and Jason Strudwick in a candid Hockey Hot Stove. TICKET INFO >
---
EKEC GRANT DEADLINE IS JANUARY 31
The deadline for second quarter applications for the Every Kid Every Community grants will be accepted until Thursday, January 31. APPLY NOW >
---

LET'S RECOGNIZE OUR PEOPLE!
Nominations are now being accepted for the 2019 Hockey Alberta Awards. You can nominate a deserving individual for any of the following awards: Coach of the Year, Player of the Year, Official of the Year or the Award of Merit. You may also nominate an outstanding team for Team of the Year. This is a chance to recognize the outstanding people in your organization. Recipients will be honoured at a special event later in the year. HOCKEY ALBERTA AWARDS NOMINATION FORM >
---
TEAMMATES HELPING TEAMMATES RAFFLE
Throughout the hockey season many team focus fundraising efforts on a charity of choice to support. We hope you will consider your teammates at the Hockey Alberta Foundation as your hockey charity of choice. We have launched the Teammates helping Teammates raffle in support of the Every Kid Every Community Grant Program. There are only 100 tickets available, with two identical grand prizes available: 25 tickets to the Calgary Flames vs Anaheim Ducks game on Friday, March 29, and transportation via motorcoach to and from Scotiabank Saddledome. Tickets are available for $100 each and can be purchased by cash, cheque or credit card by contacting the Hockey Alberta Foundation office or completing the online form.
---

ARE YOU READY TO VOLUNTEER AT THE ALLAN CUP?
The Lacombe Generals are hosting the 2019 Canadian Senior AAA hockey championship - the Viking Projects Allan Cup, April 8-13 in Lacombe. If you are interested in tickets, sponsorship or being a Volunteer at the event, email [email protected] or check out the Generals' website. GO TO THE WEBSITE >
---
JOIN THE FLAMES OR HITMEN TO WRAP UP YOUR SEASON
The Calgary Flames and Calgary Hitmen want to help your team celebrate the season with some special Minor Hockey Association ticket packages. With the Flames, your team can hold its Wrap Up Team Party at a Flames game for a special party price that includes game ticket, reserved area for your team pre-game, and exclusive food and beverage options. For the Hitmen, check out the Corral Series Minor Hockey Team Party options.
FLAMES' PARTY OPTIONS > HITMEN PARTY OPTIONS >
---