HOCKEY ALBERTA COACH CONFERENCE - THIS WEEKEND!
Recently inducted Alberta Hockey Hall of Fame member Theo Fleury will be the keynote speaker for the 2019 Hockey Alberta Coach Conference at Mount Royal University in Calgary on August 10-11. He will be joined by a number of esteemed coaches and presenters, including Geoff Ward from the Calgary Flames. SPEAKERS > | REGISTER >
---
UNLOCK YOUR POTENTIAL WITH OUR ALBERTA BUILT SUMMER CAMPS!
Finish your summer strong with an Alberta Built Skills Camp offered by Hockey Alberta in August. Your young players can reach their potential at our Female Skills Camp in Calgary and/or Super Skills Camp in Red Deer, Calgary or Grande Prairie. INFO >
---
EVERY KID EVERY COMMUNITY RECEIVES BIG BOOST FROM GOLF & GALA EVENTS
The Every Kid Every Community program has $129,000 coming its way, thanks to the Alberta Hockey Hall of Fame Awards Gala and Hockey Alberta Foundation Golf Classic, presented by ATB Wealth.
Congratulations to the team of Theo Fleury, Brock Melnyk, Shawn Stordy and Jennings Thuen, 2019 HAF Golf Classic Champions! Congratulations are also in order for Mike Commodore, who won the celebrity low net. MORE >
---
REGISTRATION NOW OPEN FOR THE 2019-20 NHL/NHLPA FIRST SHIFT PROGRAM
The First Shift is a truly unique experience for new-to-hockey families, designed to help your child fall in love with hockey before you buy all the gear. The six-week learn to play program focuses on having fun while learning basic skills. INFO > | REGISTER >
---
MHA SAFETY LEAD TRAINING SESSION - SEPTEMBER 7
As part of ensuring a safe environment for players, Hockey Alberta is encouraging each of its associations to identify a person who is passionate about safety in the game to fulfil the role of the Safety Lead. As part of this role, Hockey Alberta will be providing a one day training session on Saturday, September 7 at the Hockey Alberta office in Red Deer. BULLETIN > | REGISTER >
---
SLEDGE HOCKEY DEVELOPMENT FOR PLAYERS AND COACHES - SEPTEMBER 21
Hockey Alberta is kicking off the 2019-20 season with a two-day Sledge Hockey Player Development Camp at the Gary W. Harris Canada Games Centre in Red Deer on September 21 & 22. Along with the player camp, there will be a sledge hockey specific Coach 2 clinic offered for those who coach in the game. PLAYER REGISTRATION > | COACH REGISTRATION >
---
OFFICIATING CLINIC REGISTRATION NOW OPEN
Registration is now available for all 2019-20 officiating clinics throughout Alberta. DETAILS >
---
SHOWCASE YOUR COMMUNITY TO CANADA!
Hockey Canada is now accepting bids to play host to the 2021 World Junior A Challenge and 2021 World Under-17 Hockey Challenge. DETAILS >
---
GLENCROSS INVITATIONAL RODEO CHARITY ROUGHSTOCK RAFFLE
The Glencross Invitational Charity Roughstock Event is giving you the chance to win this 2019 GMC Sierra 1500 Truck with the elevation package. Tickets are $100 and can be purchased by visiting the Hockey Alberta office or calling 403.342.6777. Proceeds support the Ronald McDonald House® Central Alberta and the Hockey Alberta Foundation Every Kid Every Community program.
---
CELEBRATE THE GAME WITH IIHF GIRLS' HOCKEY WEEKEND!
World Girls' Hockey Weekend will celebrate the female game from coast to coast to coast - and beyond - Oct. 4-6. Will you join the party? Get your event registered now! DETAILS >
---
INTRO TO HOCKEY MODEL FOR 2019-20 SEASON
Hockey Alberta has finalized the Intro to Hockey Model, which provides the general structural and administrative guidelines and specific playing rules for all players, ages 5-8 years. DETAILS >
---
HOCKEY ALBERTA FOUNDATION PARTICIPATING IN THE 2019 BIRDIES FOR KIDS PROGRAM
The Hockey Alberta Foundation has been accepted as a participating charity in the 2019 Birdies for Kids program. This fundraising program is designed so that the Hockey Alberta Foundation will receive 100% of every donation accepted on its behalf and allows for additional funding of up to 50% of the original donations made. Your donation will support kids in Alberta who would otherwise not have access to the game. DONATE NOW >
---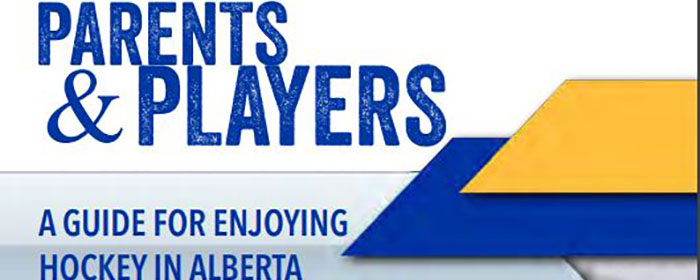 PARENTS & PLAYERS GUIDE FEATURE - NUTRITION & TRAVELLING
Eating healthy while travelling can be a challenge, but is easier when the team is on the same page with the same goals. INFO >
View the Travelling information in our Parent Guide!
---