CALGARY - The RBC Cup is coming back to Alberta in 2019.
Hockey Canada announced today (Thursday) that the Brooks Bandits of the Alberta Junior Hockey League will host the 49th edition of Canada's National Junior A Championship May 11-19, 2019 at the Centennial Regional Arena.
"Hockey Alberta is excited to have this prestigious event return to Alberta. We are always proud of how our Alberta host communities raise the bar when it comes to hosting a major event and welcoming teams from across the country," said Rob Litwinski, CEO, Hockey Alberta. "We look forward to working with Hockey Canada and the Alberta Junior Hockey League to provide support for the Brooks Bandits and their host committee to make the 2019 RBC Cup a successful event."
This will be the third time in the span of 10 years the RBC Cup will be hosted in Alberta (Lloydminster in 2016, Camrose in 2011), and the seventh time in tournament history (Grande Prairie in 2004, FortMcMurray in 2000, Olds in 1994, and Edmonton in 1975).
The 2019 RBC Cup will bring together the top Junior A teams from across the country, along with the host Bandits, to face off for the national championship. Historically, the event has generated more than $2 million in local economic impact, with event proceeds being directed to supporting hockey development in the community.
"We are immensely grateful to Hockey Canada for the opportunity to showcase our community's passion for Junior A hockey on the national stage, and to the local businesses, government, and organizations that helped to support our bid and make this event possible," said Tyler King, chair of the bid committee and Bandits communications manager. "We are already looking forward to the next two years of preparation to ensure an unforgettable national championship."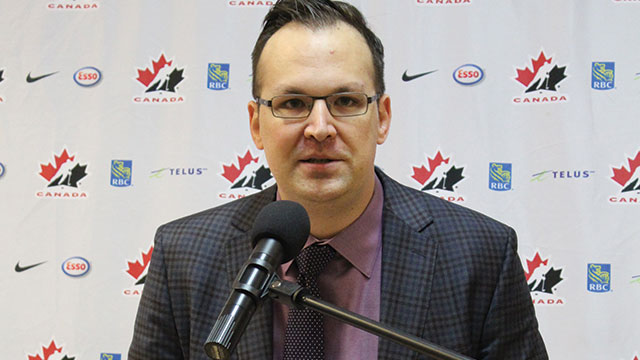 Brooks Bandits' Manager of Communications, and chair of the RBC Cup bid committee, Tyler King.
(Photo credit: Bruce Parker / Brooks Bulletin)
Having previously captured Canada's National Junior A Championship in 2013 in Summerside, P.E.I., the Bandits also appeared at the RBC Cup in 2016 and 2017 and will look to carry momentum from their runner-up finish at this year's championship in Cobourg, Ont.
Tournament ticket packages are tentatively scheduled to go on sale in May 2018 and season ticket holders will be given the first opportunity to reserve seats for the tournament.
Schedule information for the 2019 RBC Cup will be announced at a later date.