May 16, 2019
---
NORTH YELLOW WINS THE 2019 ALBERTA CHALLENGE!
The 2019 Alberta Challenge wrapped up in Leduc on Sunday, May 5 with North Yellow skating to a 5-2 victory over North Blue in the championship game. DETAILS > | ALL-STARS >
---
NORTH GREY WINS THE 2019 PEEWEE PROSPECTS CUP
North Grey won the all-northern championship match-up over North Blue 6-2 to claim the 2019 Peewee Prospects Cup in Lethbridge. DETAILS >
---
BROOKS PLAYS HOST TO THE 2019 NATIONAL JUNIOR A CHAMPIONSHIP
The 2019 National Junior A Championship is currently taking place in Brooks with the AJHL's Bandits serving as the host team. The championship game goes Sunday (May 19) at 3pm. DETAILS > | SCHEDULE > | STATS > | STANDINGS >
---
TEAM ALBERTA U18 FEMALE NAMES COACHING STAFF FOR 2019 U18 NATIONAL CHAMPIONSHIPS
The coaching staff who will lead the Team Alberta U18 Female squad at the 2019 U18 Nationals has been announced by Hockey Alberta. Craig Perrett, Dayna Janzen, Brett Wold, Engi Lim, and Shanya Shwetz will be leading the team when they take to the ice in Morden & Winkler, MB in November. DETAILS >
---
GET READY FOR NEXT SEASON WITH OUR ALBERTA BUILT SUMMER CAMPS!
Registration is ongoing for Alberta Built Skills Camps offered by Hockey Alberta. Your young players can reach their potential at one of the following camps: Dynamic Shooting, Female Skills, Lethbridge Hurricanes Summer Skills, New Season Conditioning, and Super Skills. Upcoming camps are scheduled in numerous locations across the province. INFO >
---
TEAM ALBERTA U16 SUMMER CAMP INVITES ANNOUNCED
Eighty 2004-born male athletes from across Alberta are about to take the next step in Hockey Alberta's Team Alberta program. Invitations have been extended to the players to attend the Team Alberta U16 Male Summer Camp July 1-7 in Red Deer, which is the next step in the selection process for the 2019 WHL Cup in Calgary. INVITES >
---
HOCKEY ALBERTA DEVELOPMENT LEADERSHIP WEEKEND - JUNE 22-23
Hockey Alberta is hosting a Development Leadership weekend for minor hockey volunteers in Red Deer on June 22-23. Sessions include: Coaching Skills Seminar, Intro to Hockey Seminar, and Development Directors Seminar. MHAs are encouraged to send three volunteers to this event. INFO & REGISTRATION >
---
TICKETS ON SALE FOR WORLD U17 CHALLENGE IN MEDICINE HAT & SWIFT CURRENT
The World Under-17 Hockey Challenge - an international showcase of the best young hockey talent in the world - will be co-hosted by Medicine Hat and Swift Current in November 2019. TICKETS >
---
ALBERTA HOCKEY HALL OF FAME GALA TICKETS NOW AVAILABLE
The 16th Anniversary Awards Gala & Hockey Celebration will take place on Sunday, July 21 at the Coast Hotel in Canmore. PURCHASE YOUR TICKETS >
Contact Erin Zatylny at 403-967-0064 with any questions or for sponsorship inquiries.
---
HOCKEY ALBERTA FOUNDATION GOLF CLASSIC
Join us at the annual Hockey Alberta Foundation Golf Classic in beautiful Canmore on July 22-23 in support of the Hockey Alberta Foundation's Every Kid Every Community Program. FULL DETAILS >
---
DEVELOPMENT 1 COACHING CLINICS HAPPENING THIS SUMMER
Hockey Alberta will be hosting three Development 1 coaching clinics this summer in Edmonton, Medicine Hat, and Okotoks. INFO >
---
HOCKEY ALBERTA COACH CONFERENCE RETURNS TO CALGARY
The 2019 Hockey Alberta Coach Conference is coming to Mount Royal University in Calgary on August 10-11. Prepare for the 2019-20 season with professional presentations from esteemed speakers and learn about the latest strategies, trends, and technologies. INFO & REGISTRATION >
---
MAKE A DIFFERENCE IN YOUR COMMUNITY!
Hockey Alberta is now accepting applications for key volunteer positions across a number of committees for the 2019-20 hockey season. Volunteers are the faces of Hockey Alberta within their communities, positively representing themselves and the organization in regular encounters on a daily basis with participants in our sport. APPLICATION FORM >
---
INTRO TO HOCKEY - RINK DIVIDERS - DEADLINE TO ORDER IS JUNE 1
With the full implementation of half ice/cross ice hockey at the Initiation and Novice levels in the 2019-20 season, Hockey Alberta has arranged promotional pricing on rink divider systems from Athletica Sport Systems for all member associations. Orders must be placed by June 1. INFO >
---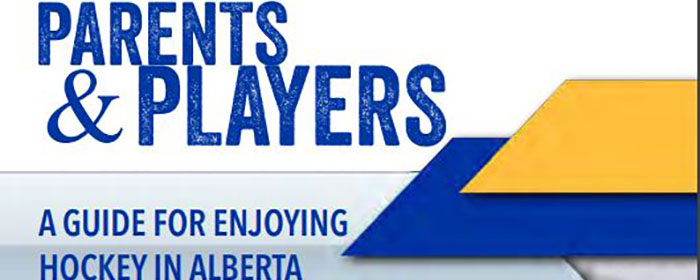 PARENTS & PLAYERS GUIDE FEATURE - LESSONS FROM BEHIND THE GLASS
In a 10 point video series produced by BC Hockey, Allyson Tufts, author of "Lessons from Behind the Glass", provides insight on how to provide your child with a positive hockey experience.
View our Lessons from Behind the Glass information in our Parent Guide!
---