April 18, 2019
---
THE ALBERTA CUP - ONE WEEK AWAY!
The 2019 Alberta Cup features the top bantam players from Alberta in a best-on-best setting. Former WHL and NHL stars who played in the Alberta Cup include: Jordan Eberle, Devan Dubnyk, Jake Debrusk, Matt Dumba, and Brayden Point. Don't miss out on your chance to see the next crop of WHL and NHL stars. Tournament passes are on sale now. TICKETS > | ROSTERS > | INFO >
---
CALGARY BUFFALOES AND ST. ALBERT SLASH PREPARE FOR NATIONAL CHAMPIONSHIPS
The Calgary Buffaloes will be the Pacific representative in this year's TELUS Cup in Thunder Bay, ON. The tournament is set to begin on April 22. SCHEDULE >
The St. Albert Slash will look for the three-peat at the Esso Cup in Sudbury, ON. They begin play on April 21. SCHEDULE >
---
ALBERTA CHALLENGE HEADED TO LEDUC!
The 2019 Alberta Challenge will be at the Leduc Recreation Centre on May 2-5. Six teams filled with the top bantam female players across Alberta will battle for the Challenge Cup. SCHEDULE > | ROSTERS > | INFO >
---
PEEWEE PROSPECTS ROSTERS ANNOUNCED
The 2019 Peewee Prospects Cup rosters have been released. Each team will comprise of 20 players who will compete for the cup in Lethbridge on May 9-12. SCHEDULE > | ROSTERS > | INFO >
---
GET READY FOR NEXT SEASON WITH OUR ALBERTA BUILT CAMPS!
Registration is ongoing for Alberta Built Skills Camps offered by Hockey Alberta. Your young players can reach their potential at one of the following camps: Super Skills, Dynamic Shooting, and Developing Defensemen. Upcoming camps are scheduled in numerous locations across the province. INFO >
---
HOCKEY ALBERTA DEVELOPMENT LEADERSHIP WEEKEND - JUNE 22-23
Hockey Alberta is hosting a Development Leadership weekend for minor hockey volunteers in Red Deer on June 22 & 23. Available courses include a Coaching Skills Seminar, Intro to Hockey Seminar, and Development Directors Seminar. It is encouraged that each MHA send three volunteers to this event. INFO & REGISTRATION >
---
ALBERTA HOCKEY HALL OF FAME GALA TICKETS NOW AVAILABLE
The 16th Anniversary Awards Gala & Hockey Celebration will take place on Sunday, July 21 at the Coast Hotel in Canmore. PURCHASE YOUR TICKETS >
Contact Erin Zatylny at 403-967-0064 with any questions or for sponsorship inquiries.
---
HOCKEY ALBERTA FOUNDATION GOLF CLASSIC
Join us at the annual Hockey Alberta Foundation Golf Classic in beautiful Canmore on July 22-23 in support of the Hockey Alberta Foundation's Every Kid Every Community Program. FULL DETAILS >
---
HOCKEY ALBERTA COACH CONFERENCE RETURNS TO CALGARY
The 2019 Hockey Alberta Coach Conference is coming to Mount Royal University in Calgary on August 10-11. Prepare for the 2019-20 season with professional presentations from esteemed speakers and learn about the latest strategies, trends, and technologies. INFO & REGISTRATION >
---
MAKE A DIFFERENCE IN YOUR COMMUNITY!
Hockey Alberta is now accepting applications for key volunteer positions across a number of committees for the 2019-20 hockey season. Volunteers are the faces of Hockey Alberta within their communities, positively representing themselves and the organization in regular encounters on a daily basis with participants in our sport. APPLICATION FORM >
---
2019 ALBERTA MASTERS GAMES
The 2019 Alberta Masters Games are heading to Rocky Mountain House on August 22-25! This 30+ event includes hockey as one of its feature sports - and competitors from across the province are needed! If you are interested, check out the website and get yourself registered. REGISTER >
---
INTRO TO HOCKEY - RINK DIVIDERS
With the full implementation of half ice/cross ice hockey at the Initiation and Novice levels in the 2019-20 season, Hockey Alberta has arranged promotional pricing on rink divider systems from Athletica Sport Systems for all member associations. Orders must be placed by June 1. INFO >
---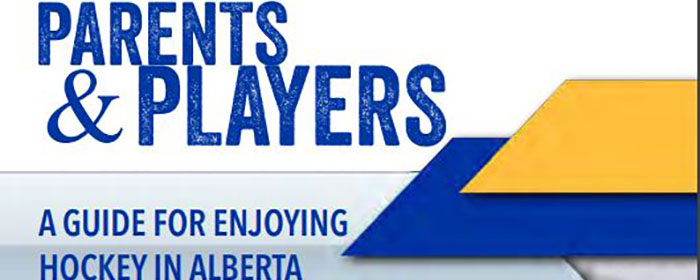 PARENTS & PLAYERS GUIDE FEATURE - THE PATHWAY TO HOCKEY IN ALBERTA
At Hockey Alberta, our Vision is "Hockey for Life." As the parent of a player within the minor hockey system in Alberta, there is a lifetime of opportunity for you and your child(ren) to stay involved in with our great sport for many years. Regardless of the age of your child, there is a level of hockey where s/he can play, and enjoy the benefits of being a hockey participant.
View our Pathway to Hockey information in our Parent Guide!
---
Breaking Down Barriers - Trio of Female Coaches Sweep CWG Podium
"It's a Great Day for Hockey!" - Brooks Novice Jamboree
---