BE ALBERTA BUILT! UNLOCK YOUR PLAYER'S POTENTIAL - REGISTER FOR A SKILLS CAMP TODAY
Registration is ongoing for Alberta Built Skills Camps offered by Hockey Alberta. Your young players can have their potential unlocked at one of the following camps: Small Area Games, Power Edge Pro (PEP), Super Skills, Dynamic Shooting, Developing Defencemen and Goaltender Skills. Camps for March and April are scheduled in numerous locations across the province. ALBERTA BUILT SKILLS CAMPS REGISTRATION >
---
SPRINGBANK ROCKIES - ONLY THREE MORE DAYS TO VOTE IN CHEVROLET GOOD DEEDS CUP
The Springbank Rockies are the only Alberta team to qualify as a semi-finalist in the Chevrolet Good Deeds Cup. Help win $100,000 for an Alberta charity. CLICK HERE to watch the incredible 60 second video. Each view equals one vote. Once you click and watch the FULL video, it registers your vote. The entire hockey community is encouraged to get involved... every age group, every team, every association to help win $100,000 for the Nathan O'Brien Children's Foundation and The Calgary Food Bank. CHEVROLET GOOD DEEDS CUP >
---
CANADA WINTER GAMES - EIGHT DAYS AWAY!
Red Deer will be hosting the 2019 Canada Winter Games from February 15 - March 3. The Male Hockey Tournament will run from Feb. 16-22, followed by the Female Tournament from Feb. 24-Mar. 2.
Team Alberta U16 Male round robin games: Saturday, Feb. 16 - 7:30pm - Centrium; Sunday, Feb. 17 - 4:00pm - Centrium; Monday, Feb. 18 - 7:30pm - Centrium --- FULL MALE HOCKEY SCHEDULE >
Team Alberta U18 Female round robin games: Sunday, Feb 24 - 7:30pm - Centrium; Monday, Feb. 25 - 7:30pm - Centrium; Tuesday, Feb. 26 - 7:30pm - Centrium --- FULL FEMALE HOCKEY SCHEDULE >
---
HOCKEY ALBERTA FOUNDATION PARTICIPATING IN THE 2019 BIRDIES FOR KIDS PROGRAM
The Hockey Alberta Foundation has been accepted as a participating charity in the 2019 Birdies for Kids program. This fundraising program is designed so that the Hockey Alberta Foundation will receive 100% of every donation accepted on its behalf and allows for additional funding of up to 50% of the original donations made. MORE INFORMATION >
Visit the Shaw Charity Classic website and select 'Alberta Hockey Foundation' to donate online. DONATE NOW >
---
COACH OF THE MONTH - JANUARY
Hockey Alberta's Coach of the Month for January, sponsored by Players Bench Team Apparel, is Ron Laferriere of Wainwright. READ MORE >
The Coach of the Month award is presented every month during the Minor Hockey season, based on nominations submitted to Hockey Alberta. One minor hockey coach will be selected each month from October through March and will receive a coaching package from Players Bench Team Apparel valued at over $500, which includes a helmet, gloves, track suit, coach bag, puck bag, rink board, and coaching resources.
Nominations are open throughout the 2018-19 season. NOMINATION FORM >
---
REGISTRATION NOW OPEN FOR LETHBRIDGE HURRICANES SUMMER HOCKEY SCHOOL
Hockey Alberta, in partnership with the Lethbridge Hurricanes and Lethbridge Minor Hockey are running an incredible development opportunity for young athletes to learn from Hurricanes staff and Hurricanes players. The camp will be open to Novice, Atom and Peewee players. Utilizing the support of Hockey Alberta to instill the values of the Long Term Player Development Model the Hurricanes staff look forward to supporting the next generation of Lethbridge Hurricanes players!
For more information, please contact Matt Weninger, Regional Manager, South - 403-380-0195. REGISTER >
---

DISTINGUISHED LEADERS RECEIVE SCHOLARSHIPS
Two outstanding post-secondary students have received Distinguished Leader status from the 2018 Future Leaders Development Program. Brett Ponich and Jake Wozney will each receive a $3,000 scholarship for their work during the Development weekend and Team Alberta Male U16 Summer Camp in Camrose. READ MORE >
Registration is now being accepted for the 2019 Future Leaders Development Weekend, taking place in Red Deer, May 3-5. REGISTER NOW >
---
BAMFORD DONATION HIGHLIGHTS HOMETOWN HOCKEY WEEKEND
The Gord Bamford Foundation provided a $10,000 donation to The Hockey Alberta Foundation, live on Rogers Hometown Hockey in Leduc on Februrary 3. Bamford was one of the special guests in attendance as part of Rogers Hometown Hockey, and he showed his love for the sport, and the kids who play hockey, in two ways. When Bamford took to the stage for a song, he was proudly sporting a Team Alberta jersey. Then, he presented Tim Leer, the Executive Director of the Hockey Alberta Foundation, with a cheque for $10,000 in support of the Every Kid Every Community program. READ MORE >
---
2019 HIGH PERFORMANCE 1 APPLICATIONS OPEN
Applications are now being accepted for the 2019 High Performance 1 coaching seminar, being held in Red Deer from July 16-21.
The NCCP High Performance 1 Seminar will include professional speakers in the delivery of sessions including special teams, planning to perform, offensive/defensive team play, goaltending, game and bench management, ethics in coaching, teambuilding and many more. All Head Coaches coaching Bantam AAA, Midget AAA and Junior A teams that compete in Inter-provincial or National Championships or the highest level as determined by the branch, must be High Performance 1 Certified. APPLY NOW >
---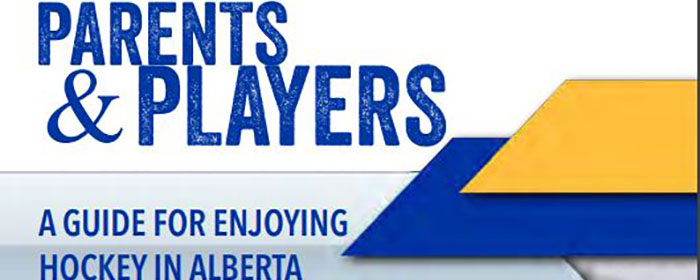 PARENTS & PLAYERS GUIDE FEATURE - NUTRITION WHILE TRAVELLING
With many teams heading on the road for tournaments and Provincial Championships, it is always important to plan ahead for your player's diet. Eating healthy while travelling can be a challenge, but is easier when the team is on the same page with the same goals! When on the road, pack items that can last without refrigeration for a few days, ie. bananas, trail mix, whole-grain bagels, and/or nut butters. If you keep a cooler in your car, other snacks you could pack include unsweetened yogurt products, cut up veggies and dip, hard-boiled eggs and/or hummus! Out of town tournaments are often associated with eating at restaurants. For more information and resources, check out the Parents tab at the Hockey Alberta website. RESOURCES >
---

LET'S RECOGNIZE OUR PEOPLE!
Nominations are now being accepted for the 2019 Hockey Alberta Awards. You can nominate a deserving individual for any of the following awards: Coach of the Year, Player of the Year, Official of the Year or the Award of Merit. You may also nominate an outstanding team for Team of the Year. This is a chance to recognize the outstanding people in your organization. The deadline for nominations in April 15. HOCKEY ALBERTA AWARDS NOMINATION FORM >
---
TEAMMATES HELPING TEAMMATES RAFFLE
Throughout the hockey season many team focus fundraising efforts on a charity of choice to support. We hope you will consider your teammates at the Hockey Alberta Foundation as your hockey charity of choice. We have launched the Teammates helping Teammates raffle in support of the Every Kid Every Community Grant Program. There are only 100 tickets available, with two identical grand prizes available: 25 tickets to the Calgary Flames vs Anaheim Ducks game on Friday, March 29, and transportation via motorcoach to and from Scotiabank Saddledome. Tickets are available for $100 each and can be purchased by cash, cheque or credit card by contacting the Hockey Alberta Foundation office or completing the online form.
---
THANK YOU TO ATB FINANCIAL
ATB Financial hosted a fundraising event at Bo's Bar and Grill, in Red Deer, on January 19. The Hockey Alberta Foundation would like to extend their thanks to Curtis Stange, John Windwick, and ATB for including the Foundation as the beneficiaries for the evening and for their continued support. Check out their feature article on Team Alberta U18 Female coach Carla MacLeod --- Coach knows preparation is key for Canada Winter Games >
---

ARE YOU READY TO VOLUNTEER AT THE ALLAN CUP?
The Lacombe Generals are hosting the 2019 Canadian Senior AAA hockey championship - the Viking Projects Allan Cup, April 8-13 in Lacombe. If you are interested in tickets, sponsorship or being a Volunteer at the event, email [email protected] or check out the Generals' website. GO TO THE WEBSITE >
---
STORIES IN THE HOCKEY WORLD
Innisfail Province - Innisfailian behind bench at Canada Winter Games
Rocky View Weekly - Springbank Rockies make top 10 of Good Deeds Cup
Regina Leader-Post - Lacombe Generals wrap season, clinch first in ACHW
Lethbridge News Now - Funding approved for World U-17 Hockey Challenge
---