Goaltender Skills Camps
The focus of all Hockey Alberta Goaltender Skills Camps is the development of goaltender specific skills, and each goalie will attend on-ice and off-ice sessions that focus on the mental and physical aspects of goaltending. On-ice sessions will be led by some of Alberta's top goaltender instructors and will have a low instructor to goalie ratio.
Age eligibility may vary by camp, so please check the detailed information that is included with the camp registration information. Every attempt is made to group players based on age and ability.
Goaltender Skills Camps, as well as a number of other specialized player development camps, are held at various locations throughout Alberta.
---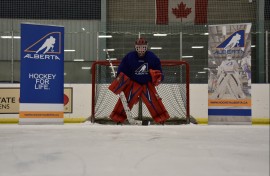 Oct 16
$525
Lethbridge Weekly Goalie Skills
October 16 - February 12, 2024
/
Nicholas Sheran Arena - Lethbridge
This weekly program run by Hockey Alberta will give goalies the opportunity to receive specialized goalie instruction throughout the season. The program is designed to set a base of strong movement and visual skills that will be re-enforced and built upon each session.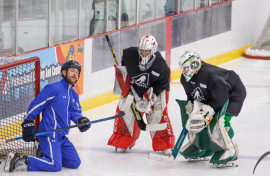 Oct 22
2023 Goalie Coach Mentorship Program
October 22 - December 10, 2023
/
Various Locations
Hockey Alberta's Goalie Coach Mentorship Program is an opportunity for Goalie Coaches throughout Alberta to learn from WHL and NHL Goalie Coaches in a small group setting.