Goaltender Skills Camps
The focus of all Hockey Alberta Goaltender Skills Camps is the development of goaltender specific skills, and each goalie will attend on-ice and off-ice sessions that focus on the mental and physical aspects of goaltending. On-ice sessions will be led by some of Alberta's top goaltender instructors and will have a low instructor to goalie ratio.
Age eligibility may vary by camp, so please check the detailed information that is included with the camp registration information. Every attempt is made to group players based on age and ability.
Goaltender Skills Camps, as well as a number of other specialized player development camps, are held at various locations throughout Alberta.
---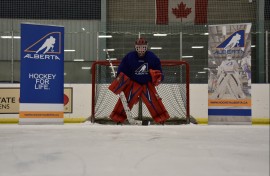 Jun 22
2019 Female Elite Goalie Camp (Application)
June 22-23, 2019
/
Gary W Harris Canada Games Centre
2019 Applications - This two-day camp will feature four on ice session and four off ice session geared toward elite goaltenders and focus on techniques, tactics and how to excel at the next level.