Welcome to 2022 Female Hockey Day!
Female Hockey Day, presented by ATB Financial, will feature on and off-ice development sessions for players and parents – all to celebrate female hockey. All ages and skill levels are welcome to join. To help us celebrate, all participants are invited to watch the U15AA Lloydminster Jr. Steelers take on the Sherwood Park Royals at 4:30pm and a join for free skate to cap off the day.
Check out the tabs below for more information on Female Hockey Day and other female hockey initiatives around the province!
Intro to Hockey Group 1
| | |
| --- | --- |
| SESSION | TIME |
| Registration | 12:00pm |
| On Ice Skills | 12:45pm - 1:45pm |
| Active Session (Fieldhouse) | 2:15pm - 3:15pm |
| Classroom Session | 3:30pm - 4:00pm |
---
Intro to Hockey Group 2
| | |
| --- | --- |
| Registration | 12:30pm |
| Classroom Session | 1:00pm - 1:30pm |
| On Ice Skills | 2:00pm - 3:00pm |
| Active Session | 3:15pm - 4:15pm |
---
U11 Group 1
| | |
| --- | --- |
| Registration | 8:15am |
| On Ice Skills | 9:00am - 10:00pm |
| Active Session | 10:30am - 11:30am |
| Classroom Session | 11:45am - 12:15am |
---
U11 Group 2
| | |
| --- | --- |
| Registration | 8:30am |
| Active Session | 9:00am - 10:00am |
| On Ice Skills | 10:30am - 11:30am |
| Classroom Session | 11:45am - 12:15pm |
---
U13 Group
| | |
| --- | --- |
| Registration | 9:30am |
| On Ice Skills | 10:15am - 11:15am |
| Active Session | 11:45am - 12:45pm |
| Classroom Session | 1:00pm - 1:30pm |
---
U15/U18 Group
| | |
| --- | --- |
| Registration | 10:45am |
| On Ice Skills | 11:30am - 12:30pm |
| Active Session | 1:00pm - 2:00pm |
| Classroom Session | 2:15pm - 2:45pm |
---
Goaltenders & Try Hockey
| | |
| --- | --- |
| Registration | 2:15pm |
| On Ice Skills | 3:15pm - 4:15pm |
---
Lloydminster Jr. Steelers vs. Sherwood Park Royals
---
Free Skate with the Steelers
Player Sessions
Player Development sessions are ongoing throughout Female Hockey Day, including on and off-ice instruction for current female players at all levels, from U7 to U18.
---
Goalie Session
An on-ice goalie development session will be held for female goaltenders of all ages. A variety of skills and fundamentals will be covered by some of Alberta's best goaltending instructors.
**Note that all goalies must be U11 or older**
---
Try Hockey - Youth
There will be a Try Hockey session offered for youth females who are looking to play hockey for the first time.
2022 Female Hockey Day will feature an AFHL U15 AA game between the Lloydminster Jr. Steelers and Sherwood Park Royals.
The Alberta Female Hockey League (AFHL) is home to 30 teams at the U18 AAA, U18 AA, and U15 AA levels, providing a competitive platform for young aspiring female athletes to enhance their skills. A collection of 12 host associations around the province are committed to the growth and development of AAA and AA female hockey.
The Alberta Challenge is a core Hockey Alberta Female Development program, providing players, coaches, therapists, equipment managers, administrators and referees an equal opportunity to discover the great qualities of competitive hockey.
The 2022 Alberta Challenge will take place on May 4-8 at the Gary W. Harris Canada Games Centre in Red Deer.
The Challenge will feature players born in 2007 and 2008.
The Alberta Challenge aids in the identification and selection of potential players for Hockey Alberta's Team Alberta program, with hundreds of players annually trying out for 120 spots (20 positions on each of the six regional teams).
Bella McKee
Bella played her minor hockey for the Irma Aces, before moving on to play U15 AAA Lloydminster Icecats. After three years with the Icecats, she moved on to play three years of U18 for the AAA Lloydminster PWM Steelers.
Once finished with the Steelers, Bella moved on to play NCAA Division I for Union College in New York.
Growing up in Irma, most kids played hockey and baseball, and her older siblings played hockey, so Bella was drawn to the game for as long as she can remember. There have been many influences for Bella in her hockey career. Growing up, she loved watching clips of NHL goalies such as Grant Fuhr, Dwayne Roloson, and Martin Brodeur. Closer to home, her parents made sure that she had every opportunity to play the game. When she was younger, a close friend passed away, and his memory has given her motivation to play ever since. Lastly, he good friend Candi has been a big influence by encouraging, supporting, and cheering on Bella at her highest and lowest, including transitioning out of playing and into coaching.
"Minor hockey gave me the opportunity to fall in love with the game of hockey. I quickly learned that if I worked hard I could earn my place to play the game," said Bella. "However, growing up in hockey taught me more than what I learned on ice. It taught me to work with a team, to always be thankful for the opportunities you are given, to respect everyone around you, to play and live like everyday might be your last, and also how to be a leader and a role model."
One highlight from her playing career, was when Bella backstopped Team Alberta to a gold medal at the 2019 Canada Winter Games in Red Deer.
Her advice to young females in the game is to never lose the fun in hockey. It is a privilege to play the game, so always have fun and give it your best. Never let hockey become an obligation.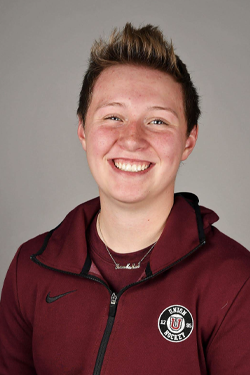 ---
Alex Spence
Alex grew up playing minor hockey in Lloydminster. She began playing on the female side as an underage player with the U15 AAA Icecats, before moving on to play three years with the Northern Alberta Xtreme of the CSSHL and capping off her minor hockey career playing for the U18 AAA Lloydminster PWM Steelers.
After minor hockey, Alex moved on to play in U Sports with the Mount Royal University Cougars in Calgary, where she is still currently playing.
The biggest influence of Alex's hockey career has been her family. Playing hockey came naturally within her household, as her older brother played and her parents were big supporters. Whether it was driving to early morning practices, talking with he after games, or allowing her to move away at age 15 to pursue her hockey dreams, Alex's parents impacted her and her hockey career in the best way possible.
"Being a female hockey player has presented me with many different opportunities. Through hockey, I have had the ability to volunteer at different events, organizations, and communities. Not only volunteer experience, being a hockey player comes with many positive connotations," said Alex. "Mentioning my experience within the sport has aided me in getting a job as the qualities that I have as a teammate are transferable to the work force. The work ethic, team work, and mental toughness I have learned throughout the sport will help me as I move beyond hockey."
Alex represented Team Alberta on two occasions, including winning a gold medal at the 2019 Canada Winter Games, and being named Captain of the team that competed at the 2019 National U18 Women's National Championship.
The one piece of advice that she would give to young players today is to just have fun with it. At the end of the day hockey is a sport that is meant to be enjoyed. Once you start taking the game too seriously and are too hard on yourself, you wont succeed. I believe that the most successful players are the ones that have fun while practicing, working out, and playing.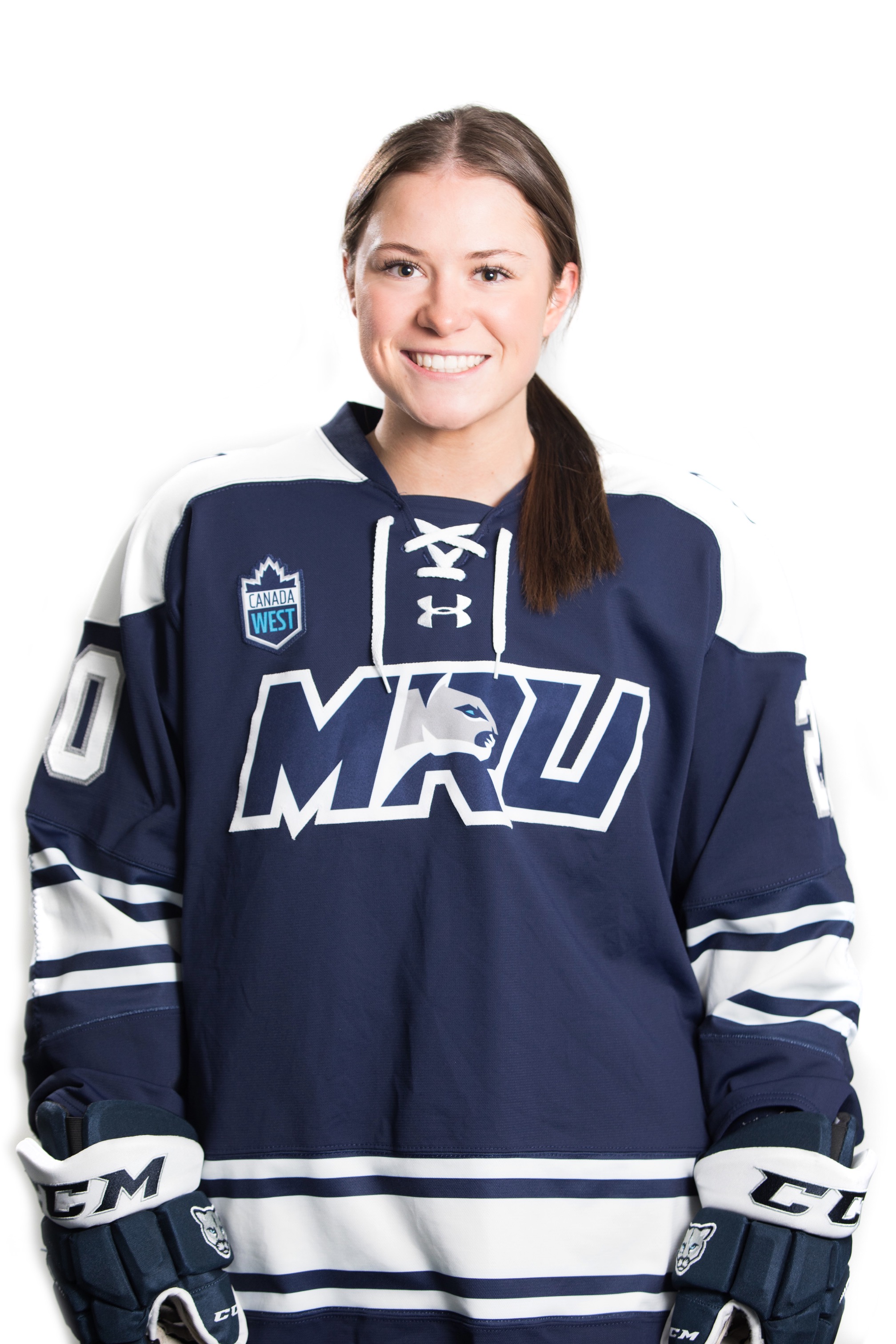 ---
Kennedy Ganser
Beginning her minor hockey journey in Provost until her first U15 year before switching over to play U15 AAA and U18 AAA in Lloydminster. She finished off her minor hockey career by moving out to join the Warner Hockey Academy in the Junior Women's Hockey League.
The decision on where to play after minor hockey was not as easy one for Kennedy, but ultimately she wanted to be close to home and have her family in the stands, which is why she elected to play at the University of Alberta. After five years with the Pandas, she was drafted by the Buffalo Beauts of the National Women's Hockey League, where she is she is still playing this season.
Kennedy fell in love with the game at a young age thanks to the influence of her entire family. Throughout her journey from Provost to Lloydminster, Edmonton, and now Buffalo, her parents, brothers, and grandpa have always made trips to watch her play and support her.
"The hockey world is a very small world and there are a lot of connections that can be made," said Kennedy. "Once my career is over, I am hoping to stay involved in the game and get into coaching. I want to give back to the game as much as I can and help young female athletes achieve their goals."
The biggest piece of advice that she can give to young players is to set the bar high. There is no such thing as setting "too high of goals." It is amazing what you can accomplish with hard work and determination both on and off the ice. You will certainly face obstacles, but it is important to remember why you play the game and that a goal isn't meant to be easily achieved.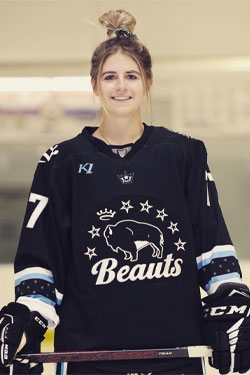 Hockey Alberta, through its Regional Managers, operates specialized player-development skill camps throughout the year.
These camps are open to male and female athletes, although ages eligible for a specific camp may vary depending on the camp and/or location. Each camp is focused on developing specific individual and team skills, and follow the principles of the Long Term Player Development (LTPD) model adopted by Hockey Alberta and Hockey Canada.
The BFL Coach of the Year Awards recognize and honour female coaches who exemplify the positive values of hockey and sport, for their successful and outstanding achievements in player development and the leadership of their players and teams.
Honouring a female coach in each province at the community, competitive and high-performance level, the BFL Coach of the Year Award will be presented to coaches who have made outstanding contributions over an extended period of time coaching hockey programs within Hockey Canada female and/or minor hockey programs.
Provincial winners will be considered in the selection of the national BFL Coach of the Year Awards. Each provincial winner will receive a $1,000 bursary; while the national winners receive a $2,500 bursary, customized Team Canada jersey, a five-year subscription to the Hockey Canada Network, a Hockey Canada merchandise package and a tablet.
---
How to Nominate
Any individual may nominate a coach for the provincial coach awards. The nomination must clearly state whether the award nomination is for the community coach and competitive coach category or if the nomination is for the National high-performance coach.
The individual submitting the nomination should complete the online nomination form and should also include a covering letter of support (not to exceed 300 words). As well, the supporting materials will include testimonials as to why the individual should be considered.