Parent Guide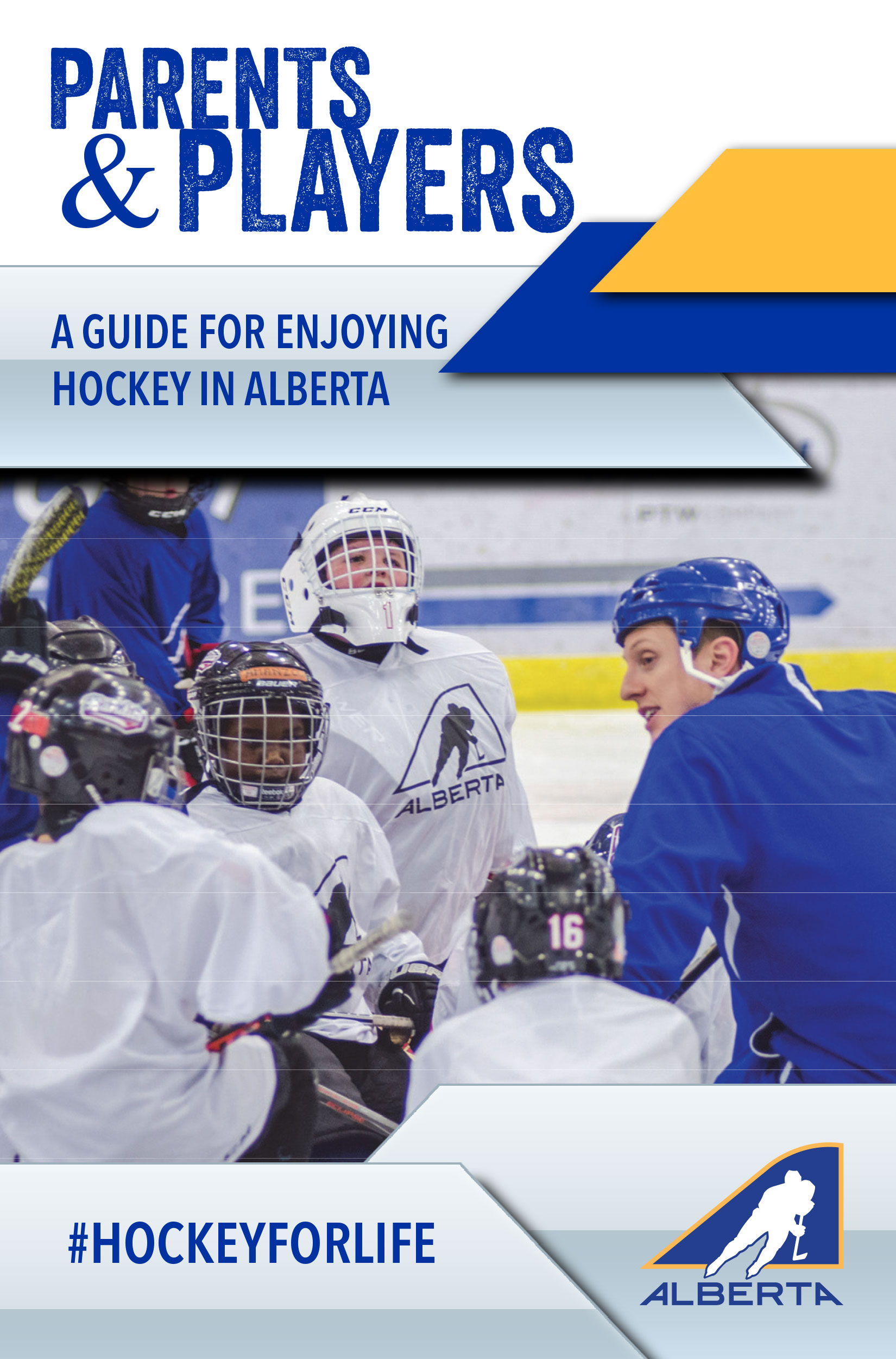 Download the complete Parent Guide >
Our goal for your hockey player is that s/he wants to experience HOCKEY FOR LIFE; with a focus on a fun and positive experience and development of skills both on the ice and outside the game.
To help achieve these goals, Hockey Alberta:
Instructs and follows the best practices in coaching and established sport science for creating the best hockey experience possible.
Adjusts competition formats and training to best serve the capacities and developmental needs of children.
Understands that player development, is a long-term process and it takes time.
Focuses on fun and skill development in the early years for our players.
Offers skill development camps for athletes of all ages and abilities throughout the year.
A key aspect of supporting our athletes is providing resources and support for parents across the province.
Parents are encouraged to check the Hockey Alberta website regularly, under the Parents Tab, for links to articles and videos to you support your athlete.

Parent Engagement Series:
Healthy nutrition is a critical part of your child's development — both as a young person and as a young hockey player. On game day everything counts and athletes must eat well to perform at their highest level, on demand and from beginning to end. However, healthy eating is essential to the growth and development of a young athlete every day, not just on game days.
Hydration is a key component of sports nutrition that is often overlooked by young athletes. Drinking water before, during and after an activity can improve mental and physical performance.
Eating healthy while travelling can be a challenge, but is easier when the team is on the same page with the same goals. Out of town tournaments are often associated with eating at restaurants. If funds are available and interest is present, teams can work with outside sources to coordinate healthy take out tournament menus.
Coaches have the ability to foster a culture of healthy eating within a team setting. Depending on the age group of the athletes, parent involvement and buy-in to the healthy eating for sport may be needed. Coaches can provide athletes and their parents with resources that have pre- and post-hockey meal ideas.
---
Resources:
Sports Nutrition for Youth - Alberta Health Services
Feeding Your Child Athlete - Kids Health
Coach's Kitchen - coach.ca
6 Nutrition Tips for Young Athletes - Active Kids
10 Best Foods for Young Athletes - Jill Castle, Childhood Nutrition Expert
One Month of Healthy Meals for Athletes - Ertheo
Game Day Nutrition for Youth Hockey Players - hockeytraining.com
Both the Hockey Alberta and Hockey Canada Long Term Player Development (LTPD) Models recommend allowing young athletes to participate in multiple sports rather than specializing at an early age. Participating in multiple sports allows young athletes to learn a variety of motor skills, hone them efficiently and increase their physical literacy. It teaches them diverse movement patterns, varied skill sets and cognitive understanding of game sense.
Encouraging your child to participate in a variety of athletic activities decreases the risk of burnout due to stress, decreased motivation and lack of enjoyment. A study by Ohio State University found that children who specialized early in a single sport led to higher rates of adult physical inactivity. Those who commit to one sport at a young age are often the first to quit, and suffer a lifetime of consequences. Athletes in the study who specialized were 70% to 93% more likely to be injured than children who played multiple sports.
Resources:
Watch Hockey Canada CEO, Tom Renney, sit down with Jason deVos, director of development with Canada Soccer, to discuss how small-area games have been benefiting the development of young athletes.
Youth Hockey Players & The Importance Of Multi-Sport Participation - New York Rangers (June 2015)
Specialization: What Does It Really Mean? - Active for Life (May 2015)
Sports Specialization in Young Athletes: Evidence-Based Recommendations - Sports Health