Hockey Alberta Referee Council Scholarship
Value
Annually – Maximum of four (4) awards for a total of $4,500.
Scholarships will be presented to officials in the province that have applied for and met the following criteria:
A member in good standing with the province in the current season and holds a minimum of Level 2.
A resident of Alberta for at least 2 years.
18 years of age by December 15th of the season they are applying for scholarship.
An active official, working games at any level.
Attending a post secondary institution in a recognized program on a full time basis. This will also include a recognized trade school program. Transcript of class enrolment is required.
Other criteria will include, but is not limited to, the applicant's on-ice ability and off-ice contribution to his/her zone.

Deadline
Application deadline is April 1st of each year.
Applicant could be applying for the year just being completed in order to qualify.
Information
Completed applications, including transcripts and personal statements, are to be sent to the Provincial Past Chairman who will lead a committee to select the successful candidate(s).
The Selection Committee retains the right to award the value up to $1,500 or less and may award less scholarships if suitable candidates have not applied.
The Selection Committee will consist of:
Provincial Past Chairman
1 Zone Chairman
1 Member at Large
---
Referee Council Scholarship Application Form >

Kyle Moxham (left) with Curtis Nichols
Taffin Evans (Calgary),
Derek Krys (Vermilion),
Justin Martin (Olds),
Kyle Moxham (Sherwood Park)
Cole Feth (Camrose)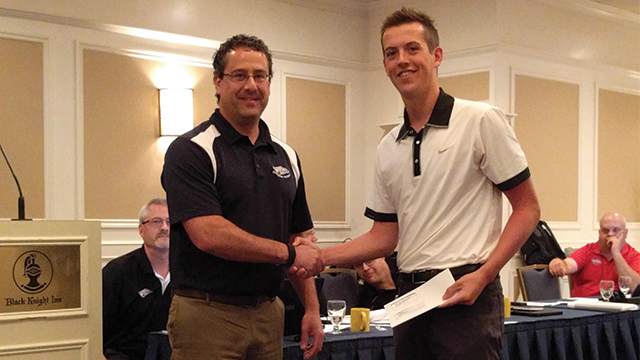 ---
Matt Wass (Medicine Hat)
---
Matthew Moldenhauer (Calgary)