March 21, 2019
---
PROVINCIAL CHAMPIONSHIPS: WEEK ONE RECAP
Thirteen new provincial champions were crowned on Sunday, highlighting a busy first weekend of the 2019 Hockey Alberta Provincial Championships, presented by ATB Financial. CHAMPIONS >
---
PROVINCIAL CHAMPIONSHIPS: WEEK TWO PREVIEW
Twelve more champions will be crowned this weekend as Week Two of the Hockey Alberta Provincial Championships, presented by ATB Financial, kicks off across the province. LOCATIONS >
---
ALBERTA HOCKEY HALL OF FAME GALA TICKETS NOW AVAILABLE
The 16th Anniversary Awards Gala & Hockey Celebration will take place on Sunday, July 21 at the Coast Hotel in Canmore. PURCHASE YOUR TICKETS >
Contact Erin Zatylny at 403-967-0064 with any questions or for sponsorship inquiries.
---
BE ALBERTA BUILT! UNLOCK YOUR PLAYER'S POTENTIAL - SPOTS AVAILABLE FOR APRIL AND BEYOND
Registration is ongoing for Alberta Built Skills Camps offered by Hockey Alberta. Your young players can have their potential unlocked at one of the following camps: Small Area Games, Super Skills, Dynamic Shooting, and Goaltender Skills. Camps for April and beyond are scheduled in numerous locations across the province. ALBERTA BUILT SKILLS CAMPS REGISTRATION >
---
LET YOUR VOICE BE HEARD! MEMBERS SOUGHT FOR MEMBERSHIP DEFINITION COMMITTEE
Hockey Alberta's Board of Directors have approved the creation of an Ad Hoc Committee to review Hockey Alberta's membership definition. We are looking for individuals who currently or very recently worked in board level roles of Hockey Alberta member organizations to participate within this committee. MORE INFORMATION & APPLICATION >
---
TEAMMATES HELPING TEAMMATES RAFFLE - FOUR DAYS LEFT
Throughout the hockey season many team focus fundraising efforts on a charity of choice to support. We hope you will consider your teammates at the Hockey Alberta Foundation as your hockey charity of choice. We have launched the Teammates helping Teammates raffle in support of the Every Kid Every Community Grant Program. There are only 100 tickets available until Monday, March 25, with two identical grand prizes available: 25 tickets to the Calgary Flames vs Anaheim Ducks game on Friday, March 29, and transportation via motorcoach to and from Scotiabank Saddledome. Tickets are available for $100 each and can be purchased by cash, cheque or credit card by contacting the Hockey Alberta Foundation office or completing the online form.
---
FUTURE COACHES PROGRAM - LAST CHANCE TO REGISTER!
Future Coaches is designed to develop male and female Midget Aged players in the areas of coaching, skill instruction, and leadership. There will be three Future Coaches weekend clinics available in Red Deer, Calgary, and Edmonton.
Red Deer - April 5-6 - REGISTER >
Calgary - April 12-13 - REGISTER >
Edmonton - April 12-13 - REGISTER >
---
HOCKEY ALBERTA FOUNDATION GOLF CLASSIC
Join us at the annual Hockey Alberta Foundation Golf Classic in beautiful Canmore on July 22 and 23 in support of the Hockey Alberta Foundation's Every Kid Every Community Program. FULL DETAILS >
---
ALBERTA CUP SPONSORSHIPS NOW AVAILABLE
The Alberta Cup is being held in Red Deer, at the new Gary W. Harris Canada Games Centre on April 24-28. Six teams of players will then move on to compete at the Alberta Cup tournament, which provides 'best-on-best' competition for 14-year old players. Sponsorships are now available at a variety of levels. SPONSORSHIP OPPORTUNITIES >
---
START YOUR JOURNEY TOWARDS NEXT SEASON - REGISTRATION OPEN FOR WHL & PEEWEE SKILLS CAMPS
WHL Skills - Hockey Alberta and the Western Hockey League are co-hosting the fifth annual WHL Skills Camp for 2005-born male hockey players. The camp, for U15 players, is set to run June 7-9, 2019 in Calgary. REGISTER >
Peewee Skills - Hockey Alberta is hosting the fourth annual Peewee Skills Camp for 2006-born athletes. The camp takes place in Calgary at the Cardel Rec South Arena on June 21-23. REGISTER > | PEEWEE SKILLS VIDEO >>
---
GOALTENDERS: TAKE YOUR GAME TO THE NEXT LEVEL
The Hockey Alberta Goaltender Skills Camp is a weekend development camp open to male and female athletes born 2004-2011, regardless of skill level. Camps are available in Edmonton (April 13-14) and Calgary (April 27-28). NORTH CAMP REGISTRATION > | SOUTH CAMP REGISTRATION >>
---

LET'S RECOGNIZE OUR PEOPLE! HOCKEY ALBERTA AWARD NOMINATION DEADLINE APRIL 15
Nominations are now being accepted for the 2019 Hockey Alberta Awards. You can nominate a deserving individual for any of the following awards: Coach of the Year, Player of the Year, Official of the Year or the Award of Merit. You may also nominate an outstanding team for Team of the Year. This is a chance to recognize the outstanding people in your organization. All award winners will be recognized at the 2019 Alberta Cup in Red Deer. The deadline for nominations in April 15. HOCKEY ALBERTA AWARDS NOMINATION FORM >
---
HOCKEY ALBERTA IS LOOKING FOR A NEW DIGITAL MASCOT!
Hockey Alberta is adopting a Digital Mascot, and we want students across the province to help us with the design!
The contest is open to elementary school students in Alberta from Kindergarten to Grade 6. The contest runs until April 5, 2019 with the winner announced in early June. HOW TO SUBMIT >
---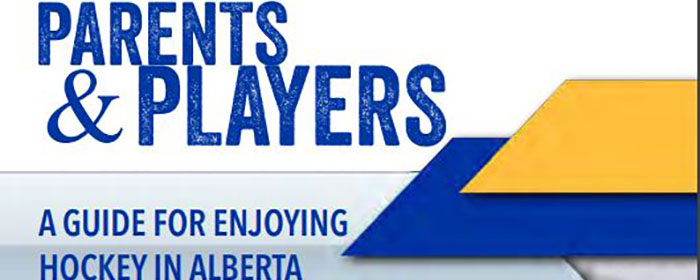 PARENTS & PLAYERS GUIDE FEATURE - CHAIN OF INFLUENCE
Something has happened to my child, who do I contact?
View our Chain of Influence Information on our Parent Guide!
---
GET GEARED UP FOR AND PROVINCIALS!
Get all of your Hockey Alberta and Provincial branded gear with the Hockey Alberta Shoppe! With options for men's, womens, unisex, youth, and team wear, the whole family can be bundled up to cheer on those young superstars. All throughout the month, receive 15% off ALL PRODUCTS by using the code MADMARCH until March 31! HOCKEY ALBERTA SHOPPE >
---
CANADA WINTER GAMES LANYARDS AVAILABLE
The 2019 Canada Winter Games are offering their extra lanyards to tournaments or groups who may want them for their members or events. For more details or to request lanyards, please contact Karen Oatway.
---