April 4, 2019
---
PROVINCIAL CHAMPIONSHIPS: WEEKS TWO & THREE RECAP
Twenty-Three new provincial champions have been crowned over the past two weekends during the 2019 Hockey Alberta Provincial Championships, presented by ATB Financial. The Junior B Provincials are underway this weekend in Wetaskiwin! WEEK ONE CHAMPIONS > | WEEK TWO CHAMPIONS > | WEEK THREE CHAMPIONS >
---
THE ALBERTA CUP IS COMING TO RED DEER!
The 2019 Alberta Cup features the top bantam players from Alberta in a best-on-best setting. Former WHL and NHL stars who played in the Alberta Cup include: Jordan Eberle, Devan Dubnyk, Sam Steel, Matt Dumba, and Brayden Point. Don't miss out on youor chance to see the next crop of WHL and NHL stars. Tournament passes are on sale now. TICKETS > | ROSTERS > | INFO > | SPONSORSHIP >
---
The Calgary Buffaloes host BC's Cariboo Cougars this weekend in a best of three series at Cardel Rec South. The winner advances to compete in the TELUS Cup in Thunder Bay, ON.
Game 1: Fri. April 5 @ 7 pm - Game 2: Sat. April 6 @ 7 pm - *Game 3 (if nec.): Sun. April 7 @ 2 pm
The St. Albert Slash host the Greater Vancouver Comets this weekend in a best of three series at Akinsdale Arena to determine who will advance to compete in the Esso Cup in Sudbury, ON.
Game 1: Fri. April 5 @ 7:30 pm - Game 2: Sat. April 6 @ 7:30 pm - *Game 3 (if nec.): Sun. April 7 @ 12:45 pm
---
SLEDGE HOCKEY TAKES OVER LEDUC!
The Paralympic Sports Association hosted the Matt Cook Memorial Cup, a Western Canada Sledge Hockey Tournament, at the Leduc Recreation Centre on March 29-31. The tournament saw 19 teams participating from Alberta, BC and Saskatchewan, with 37 games played over 3 days. Gold medal winners were the Regina Avengers (Junior & Intermediate C) and the EASA Storm (Intermediate B). Next year's tournament is in Calgary.
---
ALBERTA HOCKEY HALL OF FAME GALA TICKETS NOW AVAILABLE
The 16th Anniversary Awards Gala & Hockey Celebration will take place on Sunday, July 21 at the Coast Hotel in Canmore. PURCHASE YOUR TICKETS >
Contact Erin Zatylny at 403-967-0064 with any questions or for sponsorship inquiries.
---
COACH OF THE MONTH - MARCH
Hockey Alberta's March Coach of the Month recipients - sponsored by Players Bench Team Apparel - are Chris Overwater of Olds and Dave Shaw of Sherwood Park. MORE >
---
BE ALBERTA BUILT! UNLOCK YOUR PLAYER'S POTENTIAL - SPOTS AVAILABLE FOR APRIL AND BEYOND
Registration is ongoing for Alberta Built Skills Camps offered by Hockey Alberta. Your young players can have their potential unlocked at one of the following camps: Small Area Games, Super Skills, Dynamic Shooting, and Goaltender Skills. Upcoming camps are scheduled in numerous locations across the province. ALBERTA BUILT SKILLS CAMPS REGISTRATION >
---
FUTURE COACHES PROGRAM - LAST CHANCE TO REGISTER!
Future Coaches is designed to develop male and female Midget Aged players in the areas of coaching, skill instruction, and leadership. There are three Future Coaches weekend clinics available.
Red Deer - April 5-6 - REGISTER >
Calgary - April 12-13 - REGISTER >
Edmonton - April 12-13 - REGISTER >
---
HOCKEY ALBERTA FOUNDATION GOLF CLASSIC
Join us at the annual Hockey Alberta Foundation Golf Classic in beautiful Canmore on July 22-23 in support of the Hockey Alberta Foundation's Every Kid Every Community Program. FULL DETAILS >
---

THE ALLAN CUP IS ALMOST HERE!
The Lacombe Generals are hosting the 2019 Canadian Senior AAA hockey championship - the Viking Projects Allan Cup, April 8-13. Don't miss out on your chance to see the best senior players in the nation as they hit the ice in Lacombe. TICKETS & INFO >
---
TEAM ALBERTA U16 AND U18 COACH APPLICATIONS OPEN
Hockey Alberta is accepting applications for Team Alberta's U16 Male and U18 Female teams. Deadline is April 8 at 4 pm. U16 MALE APPLICATION > | U18 FEMALE APPLICATION >
---
2019 ALBERTA MASTERS GAMES
The 2019 Alberta Masters Games are heading to Rocky Mountain House on August 22-25! This 30+ event includes hockey as one of its feature sports - and competitors from across the province are needed! If you are interested, check out the website and get yourself registered. REGISTER >
---
INTRO TO HOCKEY - RINK DIVIDERS
With the full implementation of half ice/cross ice hockey at the Initiation and Novice levels in the 2019-20,. Hockey Alberta has arranged for special pricing for rink divider systems from Athletica Sport Systems for all member associations. Orders must be placed by June 1. INFO >
---

LET'S RECOGNIZE OUR PEOPLE! HOCKEY ALBERTA AWARD NOMINATION DEADLINE APRIL 15
Nominations are now being accepted for the 2019 Hockey Alberta Awards. You can nominate a deserving individual for any of the following awards: Coach of the Year, Player of the Year, Official of the Year or the Order of Merit. You may also nominate an outstanding team for Team of the Year. This is a chance to recognize the outstanding people in your organization. All award winners will be recognized at the 2019 Alberta Cup in Red Deer. The deadline for nominations is April 15. HOCKEY ALBERTA AWARDS NOMINATION FORM >
---
HOCKEY ALBERTA IS LOOKING FOR A NEW DIGITAL MASCOT - DEADLINE TO SUBMIT IS APRIL 5!
Hockey Alberta is adopting a Digital Mascot, and we want students across the province to help us with the design! The contest is open to elementary school students in Alberta from Kindergarten to Grade 6. The contest runs until April 5, so don't delay. HOW TO SUBMIT >
---
HOCKEY ALBERTA & LACOMBE FORD/DRAYTON VALLEY FORD
A new partnership between Hockey Alberta and Lacombe Ford/ Drayton Valley Ford will make Hockey Alberta vehicles much more recognizable when travelling around the province. The partnership sees Lacombe Ford/Drayton Valley Ford providing Hockey Alberta with a 2018 Ford Flex and Ford Explorer for the next two years. DETAILS >
---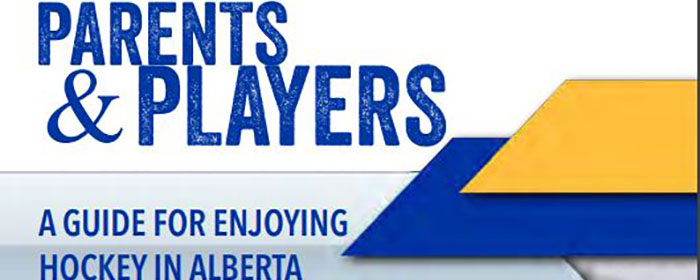 PARENTS & PLAYERS GUIDE FEATURE - RESPECT IN SPORT
The Respect in Sport Program is an online certification program designed to protect our youth as well as enhance Hockey Alberta's mandate of providing a safe and fun environment for all of our participants. It is Canada's leading online bullying, abuse, harassment, and negligence prevention program for parents, coaches, and community leaders. It is offered in two different streams: Respect in Sport Parent, and Respect in Sport Activity Leader.
View our Respect in Sport information in our Parent Guide!
---