GM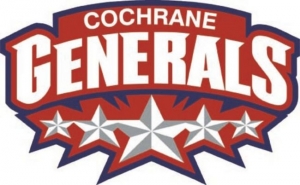 The Cochrane Generals are accepting applications for the General Manager position for the 2018-2019 season. Please provide a detailed resume with at least three references to cochranegenerals@gmail.com.
SUMMARY: The General Manager is a member of the Cochrane Generals management team who leads the organization of hockey operations and game day activities. They have the ability to organize on ice and off ice team events, manage multiple projects, and direct other volunteers to assist in operational tasks.
RESPONSIBILITIES:
In charge of the management and delegation of all issues relating to the ice scheduling, team functions, team transportation, team meals, and hockey operations.
In coordination with the Board of Directors, assist with sponsorship and marketing the team (website & social media).
Overseeing the routine game day operations and keeping schedules and records of said operations.
Select, manage and oversee volunteer positions including and not limited to Equipment Manager, Trainer, and Game Day Volunteers.
Design Implement an inventory tracking system of equipment and merchandise with direction and assistance from the Board of Directors.
Create new cost-effective performance concepts creating lower overheads through team efforts
In coordination with the Board of Directors, assist with fundraising and community initiatives.
Continuously review all team needs and make recommendations to Board of Directors.
Representing the Generals organization at League meetings and when communicating on behalf of the team.
Point of contact for the HJHL, Board of Directors, Media, and fans.
Assisting the Coach Staff where needed.
Working within a seasonal budget.
QUALIFICATIONS:
Knowledge of hockey operations required to running a successful team.
Must have strong working knowledge of ice and transportation scheduling.
Ability to plan, coordinate and supervise.
Ability to record, communicate and function as an administrator for the organization.
Ability to establish and maintain effective working relationships with Coaching Staff, Board of Directors, Volunteers, and the Media.
2+ years in sports operations management strongly preferred
Respect in Sport
A reputation and track record of a keen ability to deal successfully with managing projects, staff, and other corporate stakeholders.
Knowledge of the HJHL & Hockey Alberta Rules / Regulations is not required but an asset.
Contact Details
Organization: Cochrane Generals Junior B Hockey Team
Contact: Chase Kinch
Email: cochranegenerals@gmail.com
Phone: 403-807-0684
Application Deadline
May 05, 2018
---