General Manager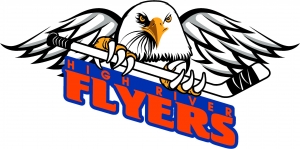 The Flyers GM plays a vital role in the success of our club. This volunteer position works closely with the coaching staff and board of directors. The GM is encouraged to attend all home games (mostly Friday nights in High River) and as many away games as possible. In addition to providing general oversight and support to the coaching staff and players, the GM is responsible for:
- oversees the registration of players and bench staff per Hockey Alberta and HJHL regulations
- representing or delegating someone to represent the Flyers at Hockey Alberta and Heritage Junior Hockey League meetings
- reporting over all team activities/concerns to the Director of Hockey Operations and/or Board of Directors
- recruitment of Athletic Therapist and/or Training Staff
Our current GM would like to step back, however he is happy to mentor the right person. If you want to get involved with a great organization and help keep junior hockey alive, please contact us at info@highriverflyers.com.
Contact Details
Organization: High River Junior Flyers Hockey Club
Contact: Vince Miller or Melissa Pryor
Email: info@highriverflyers.com
Phone: 403-336-7468
Application Deadline
July 31, 2019
---